ASCLEPIAS CURASSAVICA.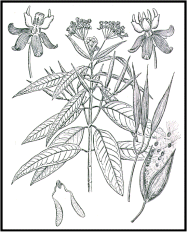 Common name: tropical milkweed, bloodflower cottonbush, pleurisy root, scarlet milkweed.
Family: Asclepiadaceae (milkweed family).

This herbaceous plant, is a very common roadside weed in Suriname. It has white milky poisonous sap and grows to a height of about 3', with oblanceolate leaves and beautiful scarlet-orange flowers.
The plant is used medicinally in the tropics for the anodyne properties of its root.
It has also been used in scrofula with great succes.
The seeds, in a pod, have a crown of silky hairs and blow into the wind like miniature parachutes.
Extract of the root is used in Suriname's traditional medicine as an emetic and laxative.
Other uses employed are against warts, fever, vomiting and expectorant. A decoction of the plant is used as an abortifacient.
The roots are known as Pleurisy Root.