MARANTA ARUNDINACEA L. - ARROWROOT.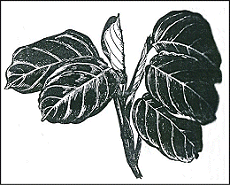 Common name
Ararao, araruta, arrowroot, bermuda arrowroot, maranta starch, obedience plant, true arrowroot, West Indian arrowroot.

Family
Marantaceae (Prayer family).

Overview
Arrowroot is an herbaceous, tropical perennial plant, with a creeping rhizome, indigenous to tropical America.
It has fleshy cylindrical tubers with rings of scars; these are leftovers of large thin scales.
The stem reaches a height of 6 feet and has creamy white flowers at the end.
It has numerous, ovate leaves, 2 to 10 inches, with long sheaths that often envelope the stem.
Arrowroot grows for 6 - 12 months before harvest.
The plant bears fruit; little berries or capsules.
Maranta powder (Arrowroot spice) from the starch of the root. This high quality starch can be used as a thickener for sauces and gravies.
It thickens at a lower temperature than flour or cornstarch and is also used for making clear glazes for fruit pies.
Starch is extracted from the rhizomes not older than a year.


Suriname traditional medicine.
The starch is used by the Amerindians as baby powder.
A very light weight white powder that when applied to the skin, it gives a soft, silky smooth feel.
Other uses are: as a remedy for diarrhea (in irritable bowel syndrome (IBS) patients).
Arrowroot is not a refined product; but just the dried and powdered root.

Phytochemicals
Beta-carotene, niacin, riboflavin, thiamin.


Hardiness
USDA zone 9 B - 11.

Propagation
Seeds and rhizome.

Culture
Needs full sun, partial shade, moist soil.
Plant in frost free spots.