Overview and Applications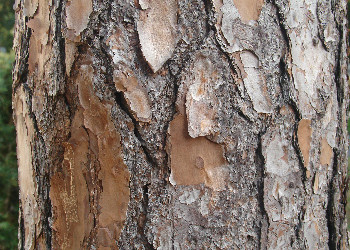 A liquid extract (herbal tincture) from the inner-bark of the Pine tree contains the oligometric proanthocyanidins (OPC's or PCO's), a sub-group of the flavonoids. These are important constituents and have significant antioxidant effects.
Antioxidants help to protect cells from free radical damage and increases the effectiveness of vitamin C.
OPC's are found in many common foods and drinks such as red wine.

The extract has been shown to help lowering cholesterol; it also decreases the risk of atherosclerosis, or damage to arteries. It has been demonstrated to help strengthen collagen tissue. The OPC extract have also been shown to help reduce swelling and inflammation.
Extract of the bark reduces pain and stiffness dramatically (by increasing blood flow to damaged joints; this gives lasting relief and helps to stop the progression of the disease).
It is, for this reason, also effective against gout.
The antioxidant and anti-inflammatory constituent, pycnogenol, reduces osteoarthritis.

The OPC's in the extract are helpful for eye conditions that are caused by blood vessel damage (diabetic retinopathy and macular degeneration).

For more information about the treatment of gout with Pine bark, go to the GOUT PAGE.

Phytochemicals

Catechin, epicatechin, taxifolin, proanthocyanidins (procyanidin B1, B3, B6, and B7), phenolic acids (gallic, ferulic, caffeic, vanillic, p-coumaric, protocatechuic, taxifolin-3-O-beta-glucopyranoside and p-hydroxybenzoic acids, and their glucosides and glucose esters).


Pharmacology

Oral and topical pine bark extract may help to even out the tone of skin that has been darkened by pigmentation disorders (melasma). In China, a prescription product containing pine bark extract has been approved for treating skin pigmentation conditions. In the United States, pine bark extract is included in a number of non-prescription face creams that claim to fight aging or restore wrinkled skin, but these claims are not documented by scientific research. Pine bark extract is also being investigated to determine if it can help to prevent sunburn and skin damage from sun exposure.

It also helps to relieve some of the pains associated with endometriosis (disease in which tissue that normally grows inside the uterus grows outside it).
Pine bark may have some activity in Alzheimer's disease. In vitro, pycnogenol protects animal brain cells from the toxic effects of high levels of glutamate, and also from the toxic effects of amyloid-beta-protein, which is found in the plaques characteristic of Alzheimer's disease.

Some research suggests that pine bark may be useful in the prevention of cardiovascular disease. In vitro, pycnogenol prevents oxidation of low-density lipoprotein (LDL) cholesterol and protects DNA from damage by free radicals. It also seems to prevent free-radical induced endothelial damage in vitro.

Pine bark inhibits epinephrine-induced platelet aggregation, such as that seen in smokers, but pycnogenol does not appear to increase bleeding risk or affect smoking-related increases in blood pressure or heart rate.
In non-smokers, it decreases serum thromboxane B2 and reduces systolic blood pressure.

For asthma it is thought to be beneficial due to its anti-inflammatory and antioxidant effects. In children with asthma taking pycnogenol decreases urinary levels of leukotrienes compared to placebo.

A study concerning cancer patients suggests the usefulness of pycnogenol in reducing adverse effects associated with radiotherapy and chemotherapy.

Preliminary evidence suggests that Pine bark may stimulate the immune system. It seems to boost natural killer cell activity and improves T- and B-cell function in animal models.


Dosage

Tincture: 1 - 4 ml. daily (1 - 4 full droppers)
Infusion (herbal tea): 1 - 3 cups daily
Take between meals.


Precaution & contra-indications

Pine bark tincture may interfere with the working of certain chemotherapy drugs (due to its antioxidant effect).
With anticoagulant and/or antiplatelet drug, with immunosuppressants.
Do not use during pregnancy and lactation.


For more information on Pine, go to the "MEDICINE FROM NATURE page".


Reference

Strong effect of pine bark extract (Pycnogenol) on symptoms of knee osteoarthritis.
Cisár P, Jány R, Waczulíková I, Sumegová K, Muchová J, Vojtassák J, Duracková Z, Lisý M, Rohdewald P.
2nd Department of Orthopaedics of the Comenius University School of Medicine, University Hospital Ruzinov, Ruzinovská 6, 82606 Bratislava, Slovakia.

Antioxidant activity of pine bark constituents.
Saleem A, Kivelä H, Pihlaja K.
Department of Chemistry, University of Turku, 20014 Turku, Finland. amsale@utu.fi

Supplementation with a pine bark extract rich in polyphenols increase plasma antioxidant capacity, alters the plasma lipoprotein profile.
Devaraj S, Vega-López S, Kaul N, et al.
Lipids. 2002;37:931-934.

Pine Bark Research Study / Stanford Antioxidant Natural Supplement Study
Principal Investigator: Randall S. Stafford.
Funding Agency: Toyo Shinyaku Co., Ltd. Duration: 10/1/2006 - 08/31/2009


The above presentation is for informational and educational purposes only.
It is based on scientific studies (human, animal, or in vitro), clinical experience, or traditional usage.
For many of the conditions discussed, treatment with prescription or over - the - counter (OTC) medication is also available.
Consult your doctor, practitioner, and/or pharmacist for any health problem and before using dietary supplements or before making any changes in prescribed medications.