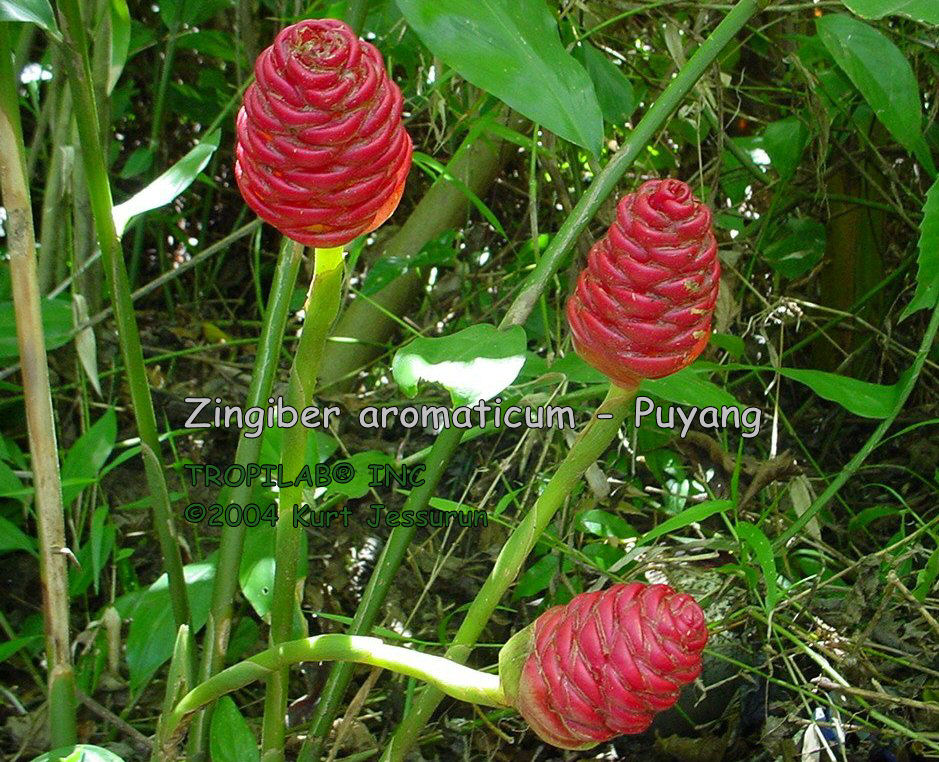 Overview

Zingiber aromaticum also called Lempuyang is a tropical medicinal plant; a beautiful ornamental ginger, originally from Indonesia.
In Asia, it is traditionally used as treatment for various ailments including malignancies.
Our herbal tincture has as constituents the bioactive sesquiterpenoid zerumbone and the dietary flavonoid kaempferol. Both have strong anticancer properties.
This plant may be effective as an anticancer agent and it also exhibited HIV-inhibitory.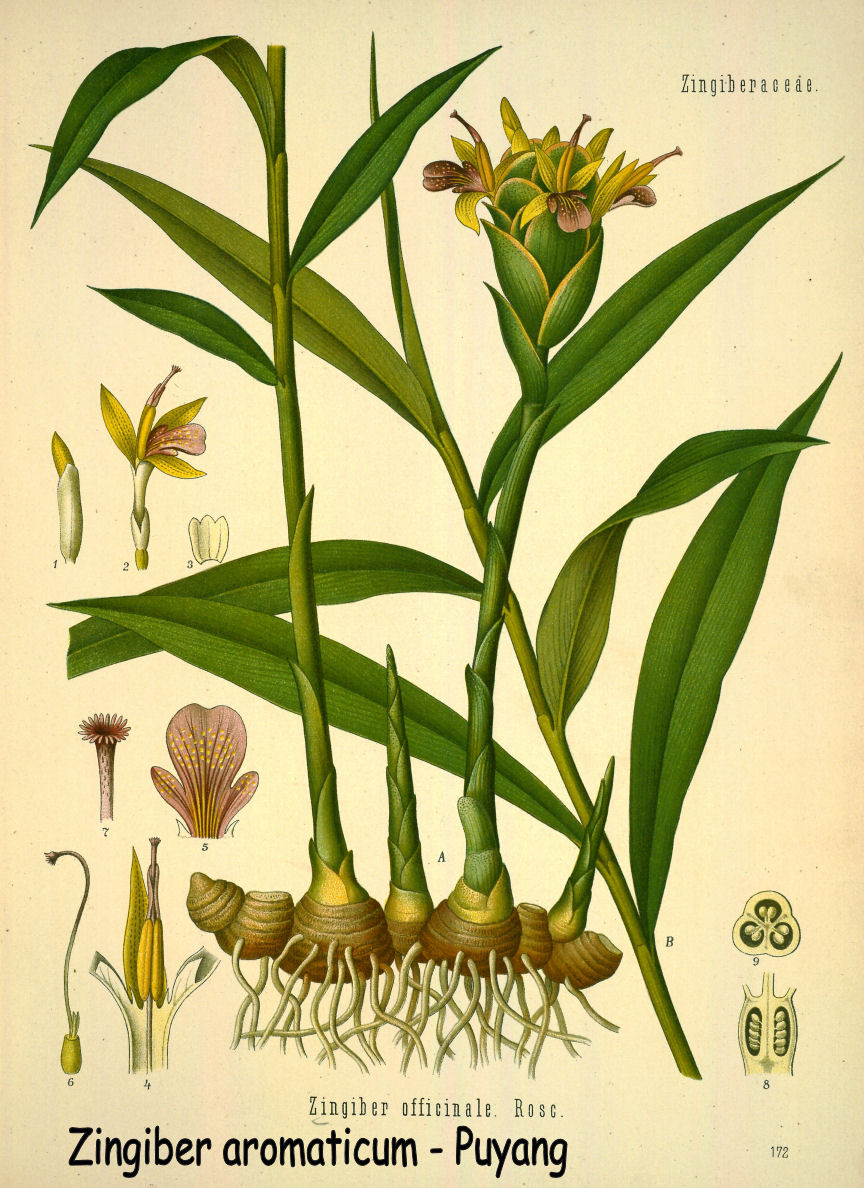 Zerumbone makes up 38% of the rhizome (the plant part used). The bioactive compound zerumbone (cytotoxic) displayed strong apoptosis (programmed cell death) against many cancer cell types but not or far less, against healthy cells.
It has high potential in preventing and controlling carcinogenesis (aka oncogenesis or tumorigenesis).
It is effective against ischaemic liver disease (Hepatocellular carcinoma) and shows also al lot of potential as a treatment for leukemia and tumors.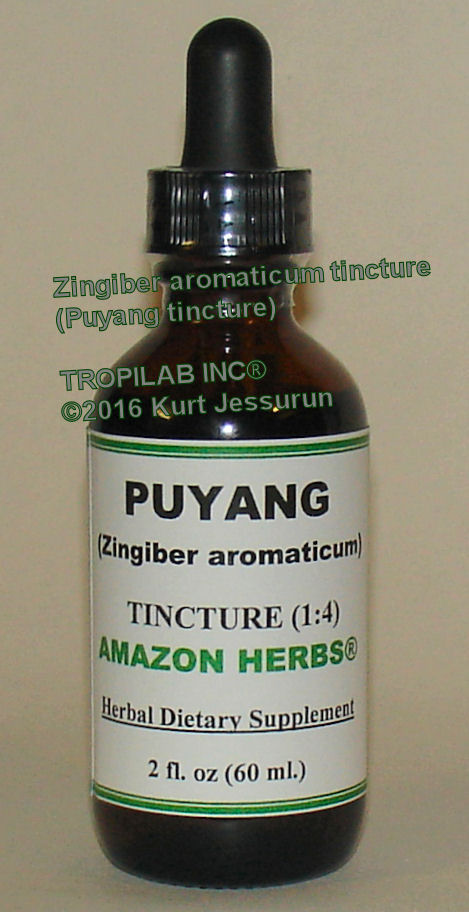 Kaempferol (a polyphenol antioxidant) is found in fruits and vegetables and reduces the risk of chronic diseases, especially cancer. It greatly increases the body's antioxidant defense against free radicals (these promote the development of cancer). Kaempferol can help to fight cancer since it reduces the resistance of cancer cells to anti-cancer drugs such as Vinbalstine and Paclitaxel.

Other applications of the rhizome (the medicinal part of this plant) are: used as an herbal dietary supplement (herbal tincture and tonic), against whooping cough, jaundice, arthritis, anorexia, cold, cholera, anemia, malaria and rheumatism. Also used as a stomachic and analgesic.


Constituents

Zerumbone (2,6,9 humulatriene-8-one); 2,3-epoxy-6,9-humuladien-5-ol-8-one ,2,3-epoxy-6, 9-humuladien-5-ol-8-one; these are all sesquiterpenoids. Kaempferol-3-O-(2,3-di-O-acetyl- -L-rhamnopyranoside); kaempferol-3-O-(2,3,4-tri-O-acetyl- L-rhamnopyranoside) these are flavonol glycosides.


Pharmacology

The anticancer properties of zerumbone (2,6,9 humulatriene-8-one), a sesquiterpenoid from Zingiber aromaticum were compared with those of curcumin from Curcuma longa. Extract of C. longa was as effective at one-seventh the concentration of curcumin as the positive control. Zerumbone is effective as an anticancer agent, possibly by its apoptosis-inducing - and antiproliferative influences.
The medicinal properties of Zerumbone can be summarized as follows:
suppresses free radical generation; suppresses cancer cell proliferation accompanied by apoptosis; anti-HIV activity, anti-inflammatory.

In an important study, Zerumbone significantly showed an antiproliferative activity upon HepG2 cells with an IC50 of 3.45 ± 0.026 µg/ml. Zerumbone was also found to inhibit the proliferation of non-malignant Chang liver and MDBK cell lines.
Hepatocellular carcinoma (HCC) is one of the most common malignancies, characterized by high incidence in hepatitis B virus-associated cirrhotic liver disease.
Bioactive components from tropical herbal plants have high potential in preventing and controlling carcinogenesis.
Zerumbone displayed a selective cytotoxic characteristic towards cancer cell lines and normal cell lines. This bioactive compound induced HepG2 cell death via apoptosis or necrosis.
In this study, Zerumbone was compared to Cisplatin (Platinol®, Platinol®-AQ), a platinum-containing anti-cancer, chemotherapy drug with antineoplastic activity. Cisplatin is used widely in the treatment of cervical, ovarian, bladder and testicular cancer. Zerumbone performed better in tests.
However, the effectiveness of combining Zerumbone and Cisplatin could be further explored as a new therapeutic intervention of early precancerous stages of carcinogenesis before the invasive stage begins.

Pancreatic carcinoma is a difficult to treat cancer with gradually increasing incidence during the past several decades. However, currently the candidate drugs to suppress pancreatic cancer remain lacking. Research was carried out to investigate if zerumbone (a natural cyclic sesquiterpene isolated from Zingiber zerumbet and Z. aromaticum) will produce the anticancer effects on pancreatic carcinoma cell lines.
It was found that zerumbone was able to induce apoptosis of pancreatic carcinoma cell lines, indicating to be a promising treatment for pancreatic cancer.

Zerumbone is a natural product found in the gingers Zingiber aromaticum and Zingiber zerumbet.


Dosage

Tincture: ½ - 3 droppers (0.5 - 3 ml) daily

For more information on Zingiber aromaticum and zerumbet go to:
"MEDICINE FROM NATURE" page.


References

Antitumor activity of extract of Zingiber aromaticum and its bioactive sesquiterpenoid zerumbone.
KIRANA C, MCINTOSH GH, RECORD IR, JONES GP.
CSIRO Health Sciences and Nutrition, PO Box 10041, Kintore Avenue, Adelaide DC, South Australia 5000.

Sesquiterpenes and Flavonol Glycosides from Zingiber aromaticum and Their CYP3A4 and CYP2D6 Inhibitory Activities
TEPY USIA, HIROSHI IWATA, AKIRA HIRATSUKA, TADASHI WATABE, SHIGETOSHI KADOTA, and YASUHIRO TEZUKA
Institute of Natural Medicine, Toyama Medical and Pharmaceutical University, 2630-Sugitani, Toyama 930-0194, Japan, Mitsubishi Chemical Safety Institute Ltd., 14-Sunayama, Ibaraki 314-0255, Japan, Tokyo University of Pharmacy and Life Science, 1432-1 Horinouchi, Tokyo 192-0392, Japan, and 21st Century COE Program

Zerumbone induced apoptosis in liver cancer cells via modulation of Bax/Bcl-2 ratio.
SHARIFAH SAKINAH SA, TRI HANDAYANI S, AZIMAHTOL HAWARIAH LP
School of Bioscience and Biotechnology, Faculty of Science and Technology, National University of Malaysia (UKM), 43600 Bangi, Selangor, Malaysia

Anticancer Activity of Natural Compound (Zerumbone) Extracted from Zingiber zerumbetin Human HeLa Cervical Cancer Cells.
A.B.H. Abdul, A.S. Al-Zubairi, N.D. Tailan, S.I.A. Wahab, Z.N.M. Zain, S. Ruslay and M.M. Syam




The above presentation is for informational and educational purposes only.
It is based on scientific studies (human, animal, or in vitro), clinical experience, or traditional usage.
For many of the conditions discussed, treatment with prescription or over - the - counter (OTC) medication is also available.
Consult your doctor, practitioner, and/or pharmacist for any health problem and before using dietary supplements or before making any changes in prescribed medications.