CESTRUM LATIFOLIUM - BITTERGREENS.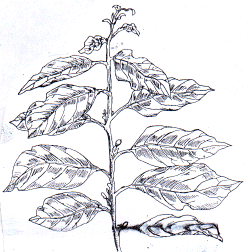 Common name
Bitter greens, bita wiwiri, bitterblad.
Synonym
Cestrum tenuiflorum.
Family
Solanaceae (Nightshade family).



Overview
A tropical shrub growing up to 6' tall, indigenous to Suriname; it has a grayish-green, hairy stem and white-yellow flowers.
It is a profuse bloomer.
The ripe fruit is a small blue-black berry containing some small seeds.
The young leaves are consumed as a vegetable in Suriname.

Suriname's traditional medicine
Bitter-greens is used by women, after giving birth.

Hardiness
USDA zone 9 - 11.
Propagation
Seeds and cuttings.
Culture
Full sun / light shade, moist rich soil.
Plant in frost free spots.