Suriname is a blending of many cultures; immigrants from all parts of the world settled in this country and brought with them their ethnic food customs.
They also brought native seeds, cuttings and rhizomes and after harvesting the crops, reproduced their favorite recipes.
This all developed into Suriname's traditional culinary art so all recipes have a typical touch, resulting in a unique cultural blending of flavors.
From the wide array available, we have chosen a sampler of favorites from the Dutch, Indian, West African, Creole, Indonesian, Chinese, Lebanese and Jewish cuisine.
Suriname has a heterogeneous population; the cuisine is born out of local tradition, so there is more than one way of cooking, as you will find out in the following recipes.

All the recipes and cooking tips are reviewed and approved by the top chefs from Surinam.

Whether hosting a big celebration or enjoying a quick and easy family meal, be bold and try something different!


GOOD LUCK AND HAPPY COOKING!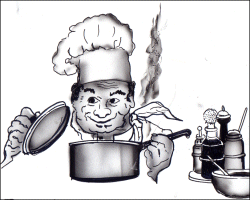 * Cakes

* Chicken dishes

* Fish dishes

* Meat dishes

* Oven dishes

* Rice dishes

* Root vegetables

* Salads

* Shrimps & Crabs dishes

* Snacks

* Soups

* Spices

* Vegetables

* Miscellaneous 1

* Miscellaneous 2