BROMELIA ALTA - BOSANANAS.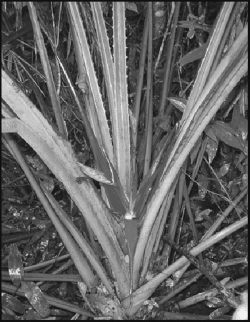 Common name
Singrasi, bosananas.
Family
Bromeliaceae.

Overview
A very robust rosette plant gowing up to 10' tall.
The long hard leaves are up to 12' long; deep red at the base with drawn - back thorns at the edge.
The inflorescence is cylindrical and has purple - blue flowers about 2" long.
The ripe fruits are orange - yellow, also about 2" long.
They are edible and sweet but can irritate the mouth.
From the leaves, strong fibers are made by the Amerindians.

Hardiness
Usda zone 9B - 11.
Propagation
Rhizomes and seeds.
Culture
Partial shade / full sun, moist soil, needs high humidity.