CALADIUM BICOLOR - CALADIUM.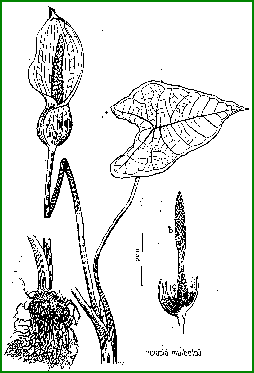 Common name
Caladium, yabafutu, sambeng, bandruiyá, angelwings, heart of jesus, papagayo.
Family
Araceae (Arum family).

Overview
A common tuberous perennial in Suriname.
The arrowhead shaped leaves are borne on petioles that arise from the tuberous root to form clumps.
The flowers are boat-shaped spathes enclosing shorter spadices.
There are many cultivars of caladium, with even so many colors; they are developed from the wild caladium bicolor.
Caladium contains oxalate crystals causing burning and irritation when eaten.


Hardiness
USDA zone 4 - 11.
Propagation
Bulbs and seeds.
Culture
Full sun / full shade, well drained rich soil, high humidity.
Needs lots of water.
Excellent container plant or, for the greenhouse.