FLACOURTIA JANGOMAS - COFFEE PLUM.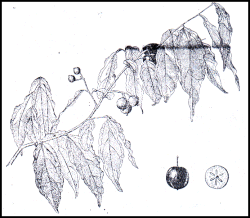 Synonym: flacourtia cataphracta.
Common name: coffee plum, paniala, puneala, Chinese plum, Indian plum, kerkup besar, paneala, jaggam, prunier malgache, rukam, babydruif, babykers.
Family: Flacourtiaceae (Ketembilla family).

A low branching tropical tree; growing up to no more than 35 feet tall.
Coffee plum has sharp spines on the trunk; the leaves are long pointed, thin and glossy.
The fragrant flowers are male and female; they are on separate trees.
The fruits, containing 7-12 hard seeds, are round, dark red to nearly black.
The taste varies from acid to sweet; it can be eaten out of hand or made into juice or marmalade.

Medicinal applications: the fruits and leaves are used against diarrhea.
Dried leaves are used for bronchitis.
The root is used against toothache.
Hardiness: USDA zone 9A - 11.
Propagation: seeds.
Culture: full sun, rich well drained soil.
Plant in frost free locations although it can endure brief drops in temperature to 25° F.