PELTOPHORUM PTEROCARPUM - COPPER POD TREE.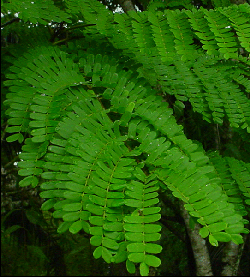 Common name: yellow poinciana, copper pod tree.
Family: Leguminoceae (Pea family).

Overview
Yellow poinciana is an upright, semi - evergreen tree, growing up to 50' tall.
It has dark green leathery leaflets, fragrant, yellow flowers and an an elongated seedpod containing one to four seeds.
Originally from southeastern Asia, it grows at present also on Suriname and is used for ornamental purposes.

Hardiness: USDA zone 9B - 11.
Propagation: seeds.
Culture: full sun, grows on clay, sand and loam soil.
It has a high dry tolerance.
Protect from frost or plant in a frost free area.
It can be used as a shade - or specimen tree.