CORDIA SEBESTENA L. - GEIGER TREE.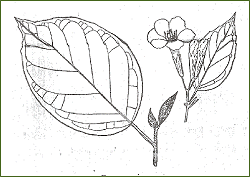 Common name:cordia, geiger tree, orange geiger, scarlet cordia.
Family: Boraginaceae (Borage family).

Overview
Geiger is a small tropical tree growing up to a height of 25 feet with evergreen heart shaped leaves.
This orange tree blooms in clusters; the flowers are deep orange and attracts butterflies.
The fruit is oval, 1 - 1.5 inches long and are borne in clusters.
All parts of this plant can be used medicinally.

Medicinal applications: catarrh, edema, malaria, urinary incontinence, venereal disease.

Hardiness: USDA zone 9 - 11.
Propagation: seeds and cuttings.
Culture: full sun / partial shade; wet soil, but has some tolerance to drought.
Plant in frost free areas.