DELONIX REGIA - ROYAL POINCIANA.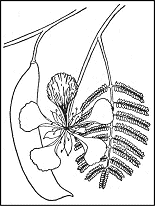 Synonym
Caesalpinia regia.
Common name
Flamboyant, royal poinciana, flame tree, peacock flower, flamboyan.
Family
Leguminosae (Bean family).

Overview
A deciduous tropical tree with fern-like leaves, that is considered one of the most beautiful trees in the world!
Although it is a fast grower, it can take up to 10 years to mature.
Flamboyant or royal poinciana as it is called, blooms in dense clusters and burst into scarlet orange blossoms.
During the dry season in Suriname it loses all of it's leaves.
Blooming starts at the beginning of the rainy season; before the leaves begin sprouting.
However, in climates when winter is not much dryer than summer, it is a semi-evergreen tree.
Originally from Madagascar, it grows abundantly in Suriname.
The tree of flamboyant is often more that 40 feet high with wide spreading branches from a domed top, sometimes even reaching the ground.
It has brown seed-pods 2' long, resembling rezone strops.
There are two varieties known: involucrata (Paradise poinciana) and regia.
It has a very thick root that is able to lift pavement up!

Hardiness
USDA zone 9 - 11.
Propagation
Seeds.
Culture
Full sun / light shade; grows on a wide range of different soil.
Frost can be a hazard to the plant but it will grow in nearly frostless areas.
Flamboyant is hardy to 35° F., although there are reports that it can survive temperatures down to 25° F.
Royal poinciana can also be grown in a very large container and it can probably also be used for bonsai.