GARCINIA MANGOSTANA L. - MANGOSTEEN.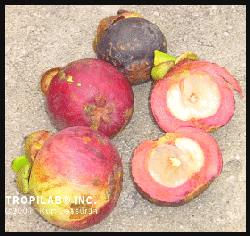 Common name
Mangosteen, manggis, mangostan, mangotanier, mangostao.
Family
Guttiferae.(Clusiaceae or St. Johnís wort family)

Overview
Mangosteen is an erect tropical tree growing up to 85 feet; the evergreen leathery leaves are oblong or elliptic.
The fruit is round dark - to red purple and smooth on the outside.
Each fruit has one (1) to two (2) seeds.
Mangostana is originally from Indonesia and was brought to Suriname by immigrants.
Manggis starts fruiting no sooner than after 7 (seven) years; it's a very slowly grower.
The fruit is slightly acid and tastes delicious.
It is a strictly tropical plant and cannot tolerate temperatures below 40 ° F.

Hardiness
USDA zone 11 - 12.
Propagation
Seeds.
Due to recalcitrant nature of the seeds, they have a short viable life, can not be dried well and can not withstand low temperatures.
Culture
Full sun; light shade; high humidity and rainfall; lots of water; rich organic soil with a pH 5.0 - 6.5.
Mangosteen is a very tender plant; the mature tree will be killed at 37° F.
Recalcitrant seeds are not refundable since they are prone to fungus and often difficult to germinate.