CARYOCAR NUCIFERUM L. - SAWARI NUT.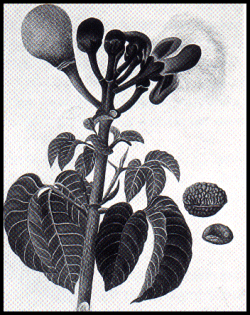 Synonym
Caryocar tomentosum, Caryocar tuberculosum, Pekea tuberculosa.
Common name
Sawari nut, ingi noto, nuez souari, butter nut of Guiana, souari nut, nosette indienne, arbre de beurre, pékéa tata-youba; porte-noix.
Family
Caryocaraceae (Caryocar family).

Overview
Souari nut is a tall evergreen tropical tree, growing up to more than 100 feet tall.
The fruit is a grayish-brown drupes; can weigh up to 6.6 pounds (3 kg).
It contains up to four stones (nuts) covered by a yellowish pulp.
The individual nuts have a warty, reddish hard, kidney-shaped shell with the creamy kernel inside; they can be eaten raw or roasted.
The extracted oil from the seeds is used in cooking and is commercially used as a nondrying oil.
The wood can be used for shipbuilding.

Hardiness
USDA zone 10 - 11.
Propagation
Seeds.
Due to recalcitrant nature of the seeds, they have a short viable life, can not be dried well and can not withstand low temperatures.
Culture
Full sun, well drained clay - to poor soils; needs high humidity.
Recalcitrant seeds are not refundable since they are prone to fungus and often difficult to germinate.