GOMPHRENA GLOBOSA - BACHELOR'S BUTTON.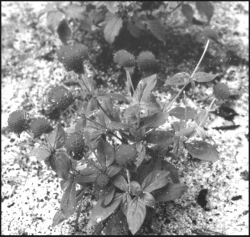 Common name: bachelor's button, stanfaste, globe amaranth, gomphrena.
Family:Amaranthaceae (Amaranth family).

Overview
Batchelor's button is a tropical annual, originally from Asia, growing up to a height of 25".
Globe amaranth has an erect branched stem with opposite, oblong leaves.
It has flowerheads in the colors, purple, white and pink, which are borne on spikes.
This flower head, one inch a cross, consist of small inconspiciuos individual flowers, however the bracts are colorful.
The flower heads can keep there color for several years when gathered.
There are hybrids in the colors blue, orange and red.

Hardiness: USDA zone 9 - 11.
Propagation: seeds and cuttings.
Culture: full sun, organically rich, well drained soil, can withstand some drought.
An excellent border plant, but can also be used in dried arrangements and as cut flowers. It also attracts butterflies.
Plant in frost free areas.