SYZYGIUM JAMBOS - POMME ROSA.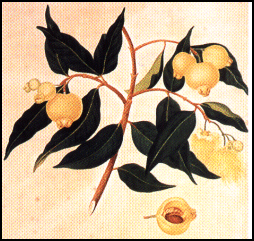 Synonym
Eugenice jambos L.
Common name
Rose apple, plum rose, Malabar plum, pomme rose, pomma rosa.
Family
Myrtaceae (Myrtle family).

Overview
Pomme rosa is a fruit tree originally from South Asia, it thrives also in Suriname.
Growing up to 40 feet tall and it has opposite leathery leaves.
Rose apple has creamy white flowers. These are large, white to cream and sweet scented.

Hardiness
USDA zone 9 B - 11.
Propagation
Seeds.
Due to recalcitrant nature of the seeds, they have a short viable life, can not be dried well and can not withstand low temperatures.
Culture
Warm and sunny location, can withstand some frost (to 25° F).
Recalcitrant seeds are not refundable since they are prone to fungus and often difficult to germinate.