SYZYGIUM SAMARANGENSE - WAX APPLE.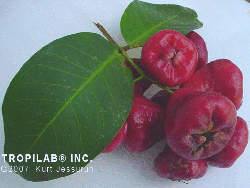 Synonym
Syzygium javanicum, eugenia javanica
Common name
Java apple, wax apple, bell apple.
Family Myrtaceae (Myrtle family).

Overview
The wax apple is a short tree no more than 45 feet tall; the opposite leaves are aromatic when crushed.
The pink-reddish fruit has a waxy appearance and is bell shaped.

Medicinal applications
The flowers are used in Taiwan to treat fever and diarrhea. The phytochemicals in the Java apple tree show some antibiotic action against staphylococcus aureus, candida albicans and mycrobacter smegmatis.

Hardiness
USDA zone 10 - 11.
Propagation
Seeds and cuttings.
Due to recalcitrant nature of the seeds, they have a short viable life, can not be dried well and can not withstand low temperatures.
Culture
The wax apple can only be grown in the southern part of Florida, since this is a stricktly tropical plant.
Recalcitrant seeds are not refundable since they are prone to fungus and often difficult to germinate.