Lemongrass tincture: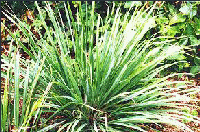 Overview:

Lemon grass (Cymbopogon citrates) an aromatic, flavorful grass, has therapeutic properties and is used internally as a medicinal tea (infusion).
The leaves are strongly lemon scented and flavored.
In aromatherapy, lemongrass oil is a toning and antiseptic herb. It is used to treat circulation, acne and oily skin
The oil is also used as a fragrance in perfumes and cosmetics.

Applications:
Lemongrass is used for bacterial- and fungal infections, nervous conditions, and inflammation (pain and stiffness).
It is also used to help with urination and water retention. Analgesic and anti-depressant ( t acts as a central nervous system depressant).
Used as a topical treatment for athlete's foot and ringworm

Phytochemicals:
The essential oil of lemon grass (0.2 to 0.5%) consists mainly of citral. Citral is a mixture of two stereoisomeric monterpene aldehydes.
Further terpenoids in lemon grass oil are: nerol, limonene, linalool and b-caryphyllene. The content of myrcene is low.
Geraniol, camphor, protein, fiber, calcium, phosphorus, iron, vitamin A, vitamin C

Dosage::
Tincture: 1 – 3 ml daily ( 1 – 3 full pipettes)
Infusion: 0.5 – 2 cups daily

Reference :
Effect of lemon grass (Cymbopogon citratus Stapf) powder and essential oil on mould deterioration and aflatoxin contamination of melon seeds (Colocynthis citrullus L.) .
African Journal of Biotechnology 3(1):pp. 52-59
Antibacterial constituents in the essential oil of Cymbopogon citratus (DC.) Stapf.
Onawunmi GO, Yisak WA, Ogunlana EO.