CYMBOPOGON CITRATUS - LEMON GRASS.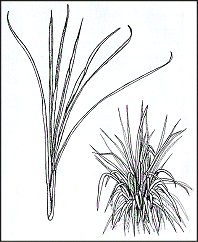 Common name
Lemon grass, fever grass, sereh, citroengras, te limon, zacate limon.
Family
Poaceae (Gramineae).

Overview
Lemon grass is an aromatic tropical grass with clumped, bulbous stems that ultimately become leaf blades.
Lemon grass is in the same grass family as citronella and palmarosa; it has a lemon flavor.
It has a branched cluster of stalked flowers and grows in clumps up to 6' tall; when crushed the fragrance resembles the scent of lemon.
Lemon grass oil is a yellow - or amber liquid that is antiseptic; it can be used to treat athlete's foot (tinea pedia).
The stem and leaves are used as a spice for cooking in the Asian cuisine in Suriname.
It is also used as an insect repellent and a carminative.
Another source is the use of Cymbopogon citratus in the cosmetic industry, such as in soap - and hair care products.

Suriname's Traditional Medicine
Lemon grass is used against coughing, cuts, asthma, bladder disorders and as a diaphoretic. It is also used to relieve headaches.
Visit also our APPLICATION & DOSAGE -, CHOLESTEROL -, DIABETES - , HYPERTENSION - , SPICES - and TINCTURE pages.

Hardiness
USDA zone 8 - 11.
Propagation
By the division of clumps.
Culture
Full sun / light shade, moist loam soil with organic matter. Plant in frost free spots. Ph of the soil: 4.3 - 8.4.