ADENANTHERA PAVONINA - RED SANDALWOOD.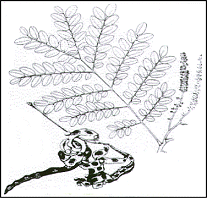 Synonyms
Adenanthera gersenii, Adenanthera polita.
Common name
Red sandalwood, coral bean tree, sagaseed tree, red - bead tree, raktakambal, kokriki, olho-de-pav"o, bois de condori, lopa.
Family
Fabaceae, (Bean family).

Overview
Red Sandelwood a big beautiful, medium to large-sized tree ranges from 18 - 45 feet in height, with pinnate compound leaves and dense racemes of fragrant, light-yellow blossoms.
The red sandalwood tree has been planted in Suriname as an ornamental.
The curved pods contain the seeds, which are exposed when these pods curl back.
In the Caribbean, the bright red seeds produced by this tree are known as "Jumbie" beads. They are also called "Circassian" seeds.
These seeds are very similar in shape and size; they have a uniform weight of about four grains. It takes about 4 seeds to make one gram and approximately 109 to make an ounce.
The seeds are used in jewelry (necklaces and ornaments).
Although the raw seeds are toxic, when cooked they are edible.
The seeds are roasted, shelled and then eaten with rice in Java, Indonesia.
The slender flattened pods become twisted as they split open at maturity to release up to 12 brilliant red, lens - shaped, extremely hard seeds.
The ripened pods stay on the tree for some time.
The hard reddish wood of the red sandalwood tree is used for cabinet making.
A red dye, obtained from the wood, is used by Brahmins to mark religious symbols on their foreheads.
Extracts from the seeds demonstrated anti-inflammatory and analgesic effects.

Hardiness
USDA zone 9 B - 11.
Propagation
Seeds.
Culture Full sun and neutral to slightly acid soils. Plant in frost free locations.
The seed must be scarified (scratched) or soaked in hot water to germinate.