TINCTURES
from AMAZON HERBS®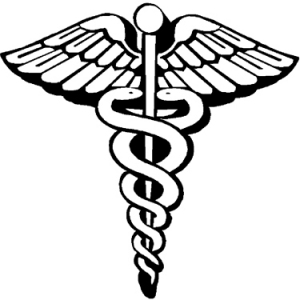 Herbal tinctures (actual, concentrated liquid herbal extracts) are generally used extensively in alternative medicine.
These are preparations of plants (or parts of plants) in a water & alcohol mixture of various ratios and have high bioavailability (quantity of the dose that is absorbed and made available).
We use dry - or fresh herbs depending on the preparation.
There is no heating involved in the process of making tinctures only cold extraction and purification are involved.
The alcohol content is at least 45% of the tincture, so it can be kept for 5 years (or more) after the date of manufacturing.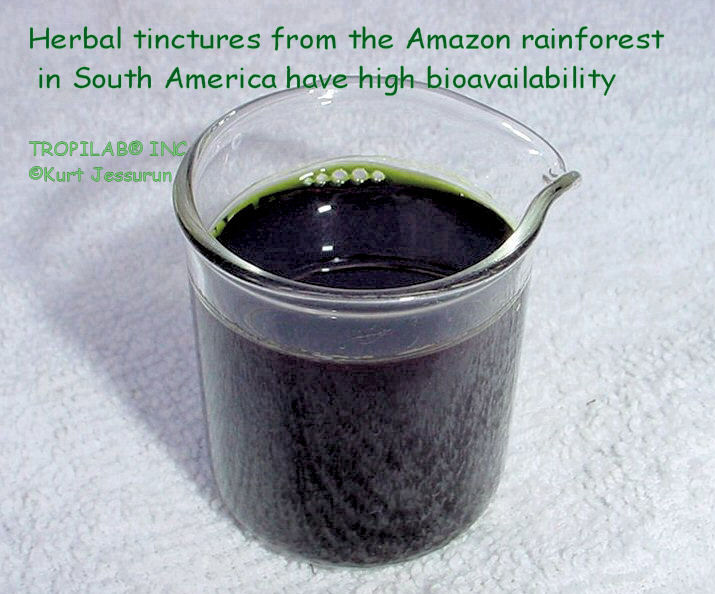 Most, but not all, preparations are in 1:4 strength; that means 1 part herbs against 4 parts solvent (water + alcohol).
All the botanicals, we use in the process are wild harvested in the Amazon Rainforest by our own collecting teams.

We use USP grade (United States Pharmacopeia), naturally derived alcohol (190 proof) and pure spring water.
The menstruum (solvent) composition and strength can vary for different applications.
This solvent concentrates the phytochemicals present in the plant.
Our herbal tinctures (made from tropical medicinal plants), stand for at least 3 months and are shaken 5 times a day, before being filtered and bottled.

Tinctures from plants are fast acting (they are easily assimilated by the body) and powerful!
They are easier to use, simply add to water. Tinctures are better assimilated and the solvent used is the safest and the most effective method of extracting the phyto-chemicals from the herbs, rhizomes and other plant parts.
For the dose of the tinctures, go to the user page.
Herbal dietary supplements** have far fewer side effects than prescription- and OTC drugs. Many substances (botanicals) used in these supplements are "generally considered as safe" (GRAS) by the Food and Drug Administration.

HOW TO TAKE TINCTURES
Herbal tinctures help solve the problems involved with rapid medicine delivery and consistent dosing.
Although absorption by the arterial blood supply under the tongue (sublingual) is completed in mere seconds; however, taking it this way has proven to be too harsh for many patients.
Taking the tincture on an empty stomach with some water is a better way to go; the tincture is not necessarily more effective on an empty stomach, but absorption into the bloodstream will be much faster if taken without food.
Also, food in the stomach significantly reduces the amount of medicine that passes into the bloodstream.
There are some exceptions though, such as Cayenne pepper tincture. Taking this tincture (or tea) on an empty stomach may cause irritation in some persons.

ABOUT OUR TROPICAL HERBS
Almost all of our medicinal herbs, plants, rhizomes and seeds are wild harvested in the Amazon Rainforest (South America) and 100% organic.
This means that they are free of contaminants, such as synthetic fertilizers, pesticides, herbicides, preservatives, GMO'S (genetically modified organisms) and animal products.
They are thorough inspected on quality before being used in the manufacturing process of tincture and medicinal tea.
No irradiation or harmful chemicals are used!
TROPILAB® uses GACP guidelines (Good Agricultural and Collection Practices) as proposed by ©EMEA and WHO.
For the dose of the teas, go to the user page..


MANUFACTURING
Store tincture refrigerated. (for prolonged storage) (temp 59 degrees Fahrenheit (15 degrees Celcius).
Or to prevent evaporation, store bottle upwards in a cool dark place and replace the dropper with the reusable cap.
Always shake the tincture bottle well.
In manufacturing, all the tinctures are processed using the GMP (Good Manufacturing Practices) for dietary supplements as proposed by the FDA Center for Food Safety and Nutrition (CFSAN).

MENSTRUUM
A solvent used in extracting compounds from plant tissues and preparing dietary supplements.
We use a hydro-alcoholic mix.

SOLVENT
A liquid that dissolves a solid, liquid or gaseous solute, resulting in a solution.
The most common solvent in everyday life is water.

* To be classified as a dietary supplement, a botanical must meet the definition given below. Many botanical preparations meet the definition.
As defined by Congress in the Dietary Supplement Health and Education Act, a dietary supplement is a product (other than tobacco) that
is intended to supplement the diet
contains one or more dietary ingredients or their constituents
is intended to be taken by mouth as a pill, capsule, tablet, or liquid
is labeled on the front panel as being a dietary supplement.
The above presentation is for informational and educational purposes only.
It is based on scientific studies (human, animal, or in vitro), clinical experience, or traditional usage.
For many of the conditions discussed, treatment with prescribed (RX) or over-the-counter (OTC) medication is also available.
Consult your doctor, practitioner, and/or pharmacist for any health problem and before using dietary supplements or before making any changes in prescribed medications.
For the right freight rate, please visit our Webstore page!
NOTE: minimum order: $10.35 (S&H excluded), when ordering online.