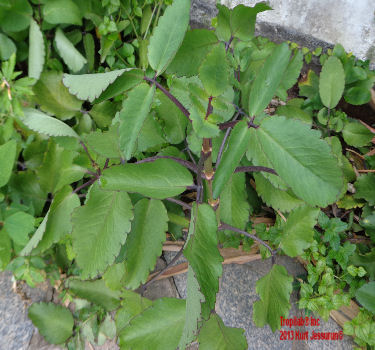 Overview

Kalanchoe (Bryophyllum pinnatum), is a succulent perennial, indigenous to South America. The plant has dark green fleshy alternate leaves.
Because of its many effective medicinal uses it is also called Air plant, Wonder of The World or Miracle Leaf. It has many properties and actions in Suriname's Traditional Medicine.
Used against migraines, headaches, and inflammations; the leaves are applied to boils, sores and skin- & gastric ulcers.
The crushed leaves taste slightly sour and bland; they are used for asthma; the fresh juice of the leaves is used to treat bronchitis, other upper respiratory infections and whooping coughs. Kalanchoe possess active antiviral compounds; reduces fevers, and may provide anti-inflammatory, pain-relieving and muscle relaxant effects.
In the Ayurvedic system of medicine in India it is also known; the juice of the fresh leaves is used effectively for the treatment of jaundice.




Constituents

The following phytochemicals are available: alkaloids, cardienolides, triterpenes, glycosides, flavonoids, steroids, quercetin, kaempferol, oxalic acid, bufadienolides, lipids and others such as fatty acids and minerals.


Pharmacology

The Bufadienolides are a group of steroid hormones, they have antibacterial, cardioactive, antitumorous, cancer preventative, and insecticidal actions. These compounds include bryophillin A which showed strong anti-tumor promoting activity. Also included are bersaldegenin-3-acetate and bryophillin C.
Bryophyllin compounds have marked anticancer therapeutic value against cancer cells. Bersaldegenin-1, 3, 5-orthoacetate inhibited cancer cell growth on several cancer lines.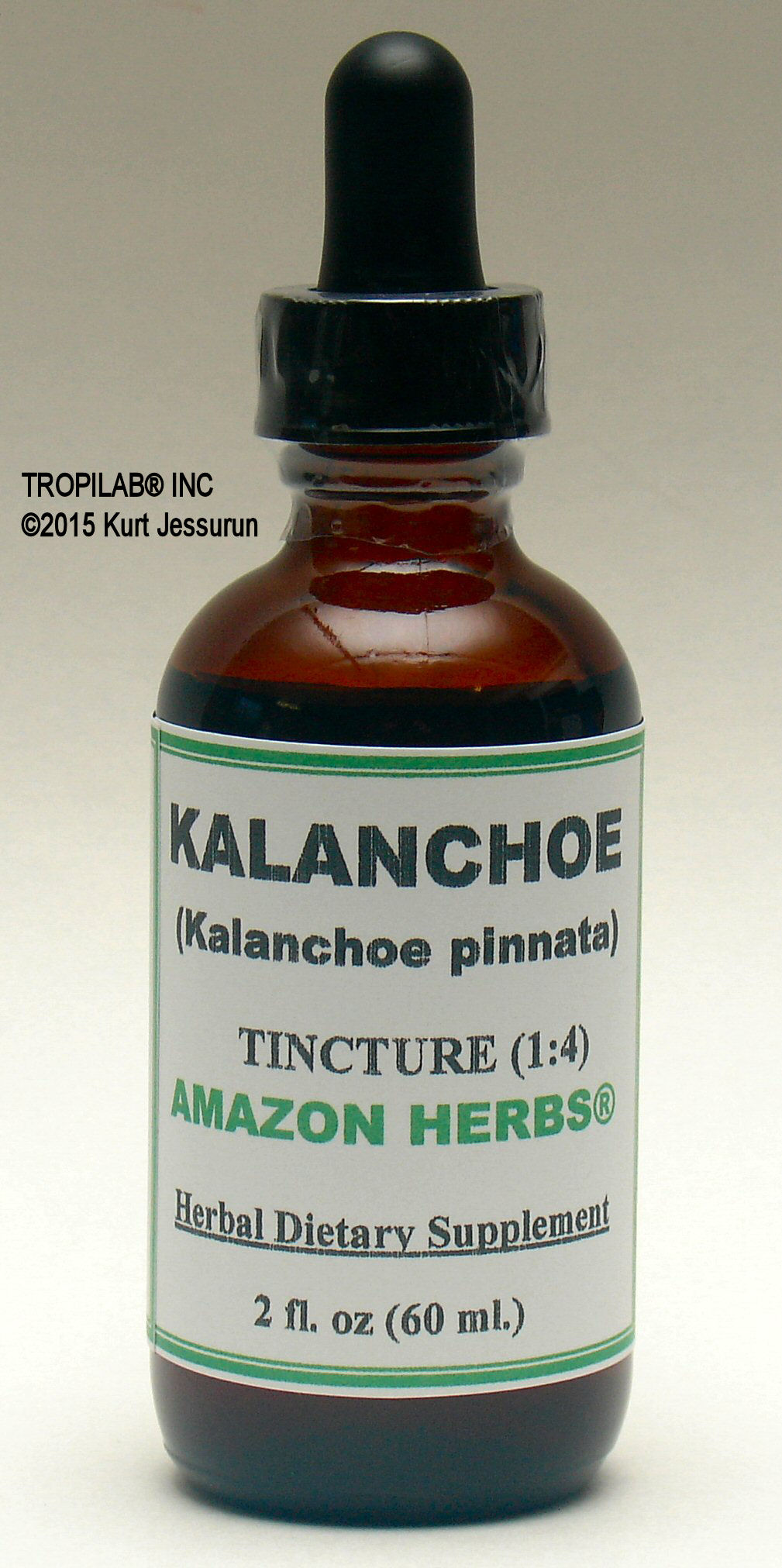 The leaf extract of the plant has been shown to significantly delay the onset of Leishmaniasis in mice when infected with Leishmania amazonensis. Quercetin has been identified as the active principle. It has antioxidant and anti-inflammatory effects and is a potent antileishmanial flavonoid. Effectiveness of an immunomodulatory extract of the plant has also been demonstrated against visceral leishmaniasis in a mouse model of infection with Leishmania chagasi.
The juice of the leaves and the ethanolic extract were studied in rats against CCI-induced hepatotoxicity. The test material was found effective as hepatoprotective.
K. pinnata flowers are a rich source of T-suppressive flavonoids that may be therapeutically useful against inflammatory diseases.

In respiratory disorders, leaf extracts are useful in the management of acute and chronic bronchitis, pneumonia, bronchial asthma, and palpitation.


Applications

Used against headaches, backaches, pains (antinociceptive activity) and rheumatism.
Against Upper Respiratory Tract Infections (URTI's), works against viral, bacterial and fungal infections. Against leishmaniasis; hepatoprotective. The tincture works on varicose veins, stimulates the blood circulation and hypertension. It can also be topical applied to wounds, boils, and insect bites.


Dosage

Tincture: 1 – 2 times daily.



Interactions

It may potentiate immunosuppressive medications; contraindicated for people with allergies.
Kalanchoe should not be used in pregnancy.


Reference

Nutraceuticals in Respiratory Disorders
Kavita Gulati, Arunabha Ray 2016



The above presentation is for informational and educational purposes only.
It is based on scientific studies (human, animal, or in vitro), clinical experience, or traditional usage.
For many of the conditions discussed, treatment with prescribed (RX) or over - the - counter medication (OTC) is also available.
Consult your doctor, practitioner, and/or pharmacist for any health problem and before using dietary supplements or before making any changes in prescribed medications.

For the right freight rate, please visit our Webstore page!