Nasi goreng, originally from Indonesia, found its way to Surinam due to Javanese immigrants.
It is an extremely popular dish in Surinam.
The recipe can be expanded by adding more ingredients but some can even be replaced.
The chicken with shrimp but a combination of both is also possible.
Nasi goreng can also be garnished with sliced tomatoes.
It is a simple yet tasty dish and is prepared in every household in Surinam.
Bon apetite!

Ingredients: served for 4 persons.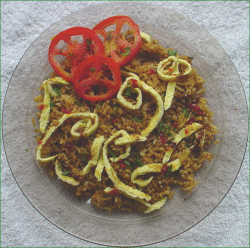 * 5 oz. rice
* 5 oz. grilled chicken breast
* 3 - 4 cloves of garlic
* 1 medium - sized onion
* 2 pinches of shrimp paste
* 1 oz. butter, e. g. margarine
* 2 - 3 twigs of celery
* 5 - 6 slices of ginger
* black or white pepper
* 2 - 3 bouillon cubes
* 6 tablespoons of soy sauce


Cooking instructions:

The rice should be cooked dry.
Let it cool off, stir in order to prevent lumps.
Slice or dice the chicken breast and onion.
Squeeze the cloves of garlic.
Cut the cellery thinly.
Heat the butter and add the sliced / diced onions and sauté the onions.
Add the squeezed garlic, shrimp paste, slices of ginger, a dash of black - or white pepper and stir.
Pulverize the bouillon cubes.
Add the rice, the soy sauce and stir; the rice should be light brown.
Turn the stove off, add the thinly - sliced celery and stir.
Garnish with the thinly - sliced omelet.