COCCOLOBA UVIFERA L. - SEA GRAPE.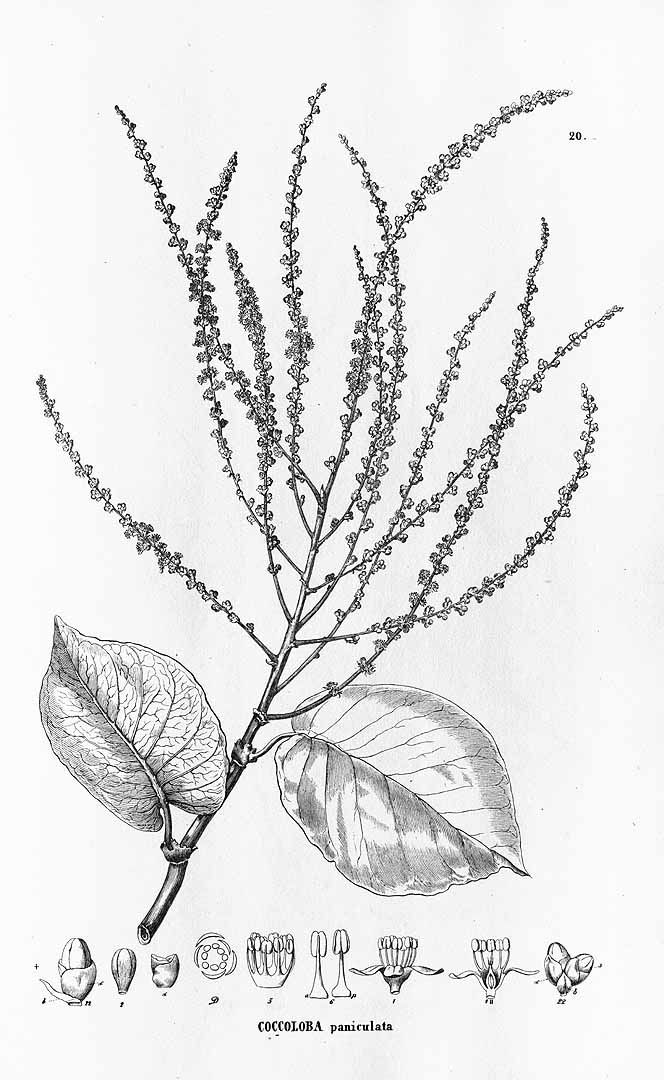 Common name
Arahueque, gemeine seestraube, raisenier, raisin marine, sea grape, uva de playa, uvero, uvito.
Family
Polygonaceae (Buckwheat family).

Overview
Sea grape is an evergreen tropical tree; it grows in Suriname up to 50' tall.
It has shiny, leathery alternate leaves, 8" in diameter with a primary vein that's reddish at the base.
Sea grape has small fragrant white flowers on spikes.
The fruit (a berry) hangs down in clusters; there are more than 40 fruits in the cluster.
The velvet - like fruits are globose and white-light brown colored, with a single seed.
The taste is sweetish acid.
The fruit pulp is eaten raw, made into jelly or fermented into wine.
The wood can be used for furniture, while the bark resins can be used for the tanning of hides.

Medicinal applications
The bark resin is also used against throat ailments while the root is used against dysentery.

Hardiness
USDA zone 9 B - 11.
Propagation
Seeds and cuttings.
Due to recalcitrant nature of the seeds, they have a short viable life, can not be dried well and can not withstand low temperatures.
Culture
Partial shade / full sun, drought tolerance.
Protect from frost or plant in frost free areas; leaf damage starts at 32° F. and branch damage at 25° F.
It can be used in landscaping as a free standing tree.
Recalcitrant seeds are not refundable since they are prone to fungus and often difficult to germinate.