ALPINIA ZERUMBET - SHELL FLOWER GINGER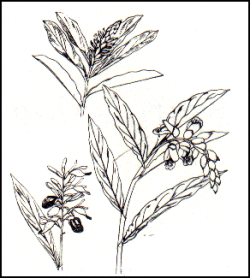 Common name
Shell flower ginger, shell ginger, pink porcelain lily, da cao kou, xxx shan jiang, light galangal, Kha khom.

Family
Zingerberaceae (Ginger family).

Overview
A ginger with showy flowers, originally from Indonesia, often reaching a height of 9 feet.
This is a vigorous growing ginger; the flowers are pink with yellow and red throats.
The flowers are on drooping panicles and the bracts resemble shells.
The stem is densely massed; the leaves are broad and green.
There is also a variety with striped leaves called variegated shell flower ginger.

Hardiness
USDA zone 7 - 11.

Propagation
Division of the rhizome, seeds.

Culture
Partial sun, rich moist soil, needs high humidity.
Protect from frost in the cooler zones.
It can also be kept in the greenhouse.
Shell ginger is root-hardy in zone 7, but it will not flower if its gets frost.