HIPPEASTRUM PUNICEUM - BARBATUM LILY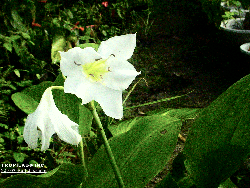 Synonym
Crinum barbatum.
Common name
Barbatum Lily, Grand crinum lily.
Family
Amaryllidaceae (Lily family).

Overview
The genus Hippeastrum encompasses 75 species; they are referred to as Amaryllis. Most are from tropical South America and are hybrids.
This is a perennial bulbous plant, growing all year round in the tropics and in the glass house.
The flowers are white.

Hardiness
USDA zone 8 - 11

Propagation
Dividing bulbs (including offsets).

Culture
Needs full sun to 30%; protect from low temperature; flowers after 06 - 12 months and blooms repeatedly. It can be kept indoors in a large container, outdoors or in the green house.
Needs well drained, sandy loose soil.
It can also be also used for landscaping.