Overview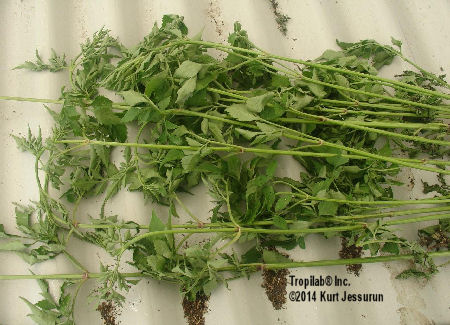 The whole plant is applied medicinally; it is indigenous to South America. Picão preto (Bidens pilosa) is used as an herb and an ingredient in teas or tropical herbal medicines.
Actions are, to expel pathogenic factors from the skin, remove toxin, and eliminate stagnancy. Other applications include influenza, swollen - and sore throat, enteritis, dysentery, jaundice, intestinal carbuncle, epilepsy in children and hemorrhoids.
It can also be used externally; to treat snake bites and wounds.
Used traditionally for ulcers and diabetes; it is also liver protective.


Constituents

Almost two hundred compounds have been isolated from B. pilosa, especially polyacetylenes and flavonoids. It contains chalcone, okanin and ethyl caffeate (a hydroxycinnamic acid).
To date, 201 compounds comprising 70 aliphatics, 60 flavonoids, 25 terpenoids, 19 phenylpropanoids, 13 aromatics, 8 porphyrins, and 6 other compounds, have been identified.


Pharmacology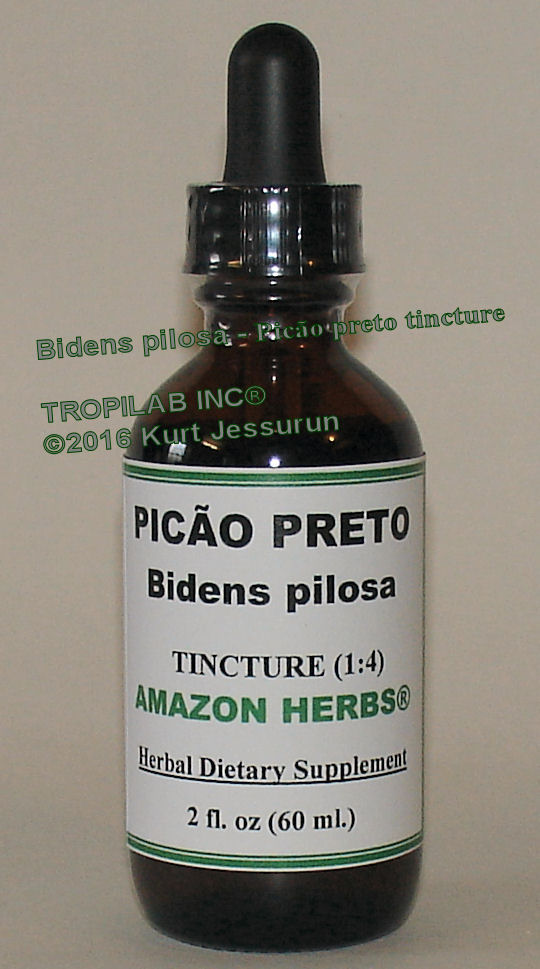 The association between B. pilosa phytochemicals and their bioactivities is not yet fully established and should become a future research focus.
Compelling evidence suggests that the various diverse bioactivities reported for B. pilosa reflect its phytochemical complexity.
B. pilosa is an extraordinary source of phytochemicals, particularly flavonoids and polyacetylenes. Flavonoids are commonly reported to possess anticancer, anti-inflammatory, antioxidant, and other bioactivities. However, the bioactivities of only seven of the 60 flavonoids present in B. pilosa have been studied. The bioactivities of the remaining 53 flavonoids are poorly understood and deserve further investigation. Other classes of compounds found in B. pilosa are also in need of further examination.
B. pilosa extracts and isolated compounds possess anti-cancer activities against a variety of cancer cells.
Extracts suppressed the growth of isolated adult T-cell leukemia cells in vitro.
Researchers from Taiwan reported in 2001 that a simple hot-water extract of Picão preto could inhibit the growth of five strains of human and mouse leukemia at less than 200 mcg per ml in vitro. It may prove to be an effective and useful medicinal plant for treating leukemia.
Polyynes, flavonoids, phenylpropanoids, fatty acids, and phenolics are the primary bioactive compounds of B. pilosa. They have been reported to be effective in the treatment of tumors, inflammation/immune modulation, diabetes, viruses, microbes, protozoans, gastrointestinal diseases, hypertension, and cardiovascular diseases.


Applications

Used in Traditional Chinese Medicine (TCM) against acute appendicitis, acute infectious hepatitis, colds, dyspepsia, fever, gastroenteritis, hemorrhoids, influenza, itching, rheumatic arthralgia (joint pain) and sore throat.


Dosage

Herbal tincture: 1 - 3 ml daily.
Infusion (herbal tea): 1 - 2 cups daily.


Precaution

The use of this plant may potentiate antidiabetic, anticoagulant, and antihypertensive drugs.
Seeds are considered poisonous and the sap can be irritating.


References

Anti-adult T-cell leukemia effects of Bidens pilosa.
Nakama, S., et al. International Journal of Oncology 38(4), 1163-73, (2011). PMID 21318218.

Ethyl caffeate suppresses NF-KB activation and its downstream inflammatory mediators, iNOS, COX-2, and PGE2 in vitro or in mouse skin.
Chiang, Y., et al. Br J Pharmacol. 146(3) 352–63, (2005). PMID 16041399.

Compilation of secondary metabolites from Bidens pilosa.
Silva, F. L., et al. Molecules 16(2), 1070-1102, (2011).

Plant Use Details of Bidens pilosa.
Landcare Research.

Technical Data Report for Picão preto



The above presentation is for informational and educational purposes only.
It is based on scientific studies (human, animal, or in vitro), clinical experience, or traditional usage.
For many of the conditions discussed, treatment with prescribed (RX) or over - the - counter (OTC) medication is also available.
Consult your doctor, practitioner, and/or pharmacist for any health problem and before using dietary supplements or before making any changes in prescribed medications.