PASSIFLORA QUADRANGULARIS L.- GIANT GRANADILLA.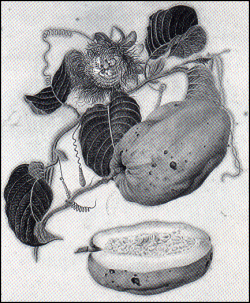 Common name
Bigi markusa, granadilla grande, giant granadilla, barbadine, maracuja assu.
Family
Passifloraceae.(Passiflora Family)

Overview
A vigorous tropical vine with large
bright - green oval leaves; the stem is quadrangular in cross section.
It has beautiful flowers, 5" in diameter; the oval fruits reach a length of 12" or more.
Hand pollination is necessary for commercial production.
The green fruit is used as a vegetable while the ripe fruit can be used in salads, juices and jellies.

Hardiness
USDA zone 9 B - 11.
Propagation
Seeds and cuttings.
Culture
Full sun / partial shade, well drained, moist soil, pH. 5.5 - 6.0; needs high humidity.
Serious damage if temperature drops below 35° F.
Protect from frost or plant in frost free areas.
Is grown for it's large ornamental fragrant flowers and the large fruits.
This plant can also be kept as a container plant.