BISMARCKIA NOBILIS - BISMARCK PALM.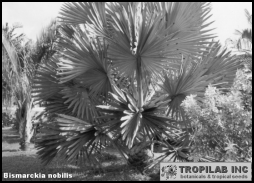 Synonym
Medemia nobilis.
Common name
Bismarck palm.
Family
Arecaceae (Palmae).

Overview
Size: 60 feet tall.
Trunk: heavy trunk.
Origin: Madagascar, but grows now also in Suriname.
Fruit: round and brown, 1½ inch in diameter containing 3 seeds.
A very beautiful palm for tropical - and sub tropical landscapes.
Since this is a robust palm, it needs a lot of growing space.
There are two forms of the bismarck palm: a blue/silver form; some of these forms are nearly white/silver.
The other form is green and more frost tender than the blue/silver form.

Hardiness
USDA zone 9 - 11.
Propagation
Seeds.
Cultivation
Can be grown indoors in containers.
Full sun; will recover from freeze damage, since it tolerates some frost.
How warmer the climate, how faster the bismarck palm grows.
Has some salt - and a high dry tolerance.