Overview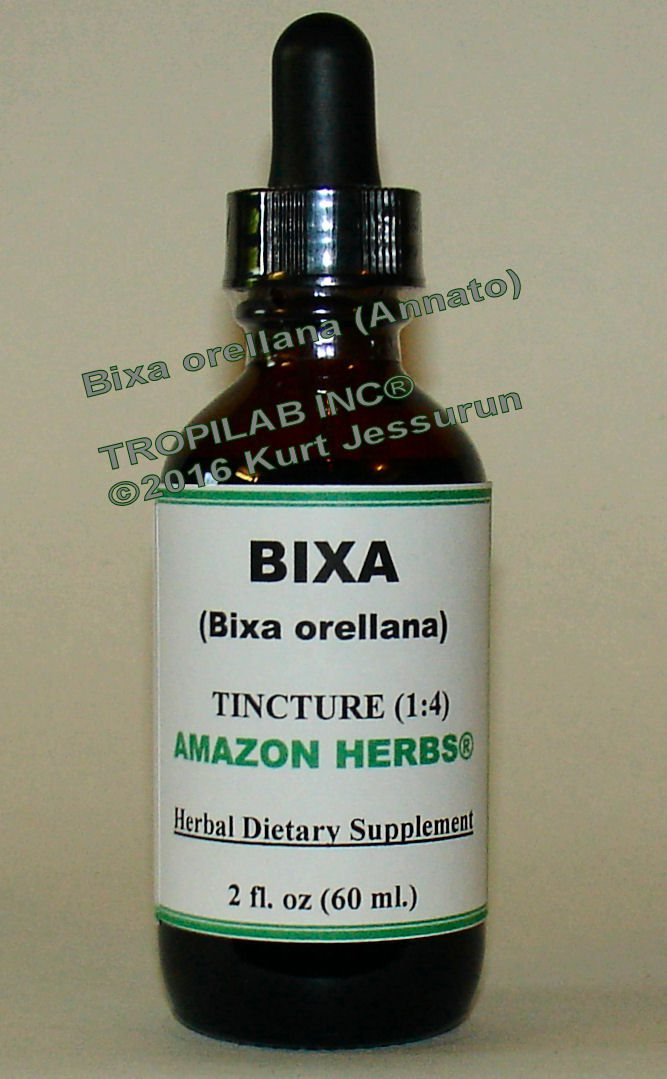 A tropical shrub from South America of which the fruits are medicinally used. Bixa, or Annato is a natural flavoring & coloring agent (food applications) made from the fruit pulp.
The herbal tincture, made from the fruit and seeds, is anti-fungal, anti-oxidant, anti-bacterial and anti-inflammatory.
It is a remedy for heartburn, diuretic, high cholesterol, liver and stomach disorders.
Also used as an aphrodisiac, halts coughing, reduces phlegm, it is mildly laxative and reduces acid.
The indigenous people in Suriname have used the pulp surrounding the Anatto seeds for many centuries as body paint during festivities. Other applications are, used as a fabric dye; as a sunscreen and against insect bites.
Anatto oil is emollient and the content has antioxidant properties.


Phyto - chemicals

Bixin and norbixin are the main pigments contributing to the color of Annatto extracts. Extracts are obtained from the outer layer of the seeds. The principal pigment in annatto extract is cis-bixin, which is contained in the resinous coating of the seed itself.
The seeds contain a higher concentration of delta-tocotrienol (naturally occurring vitamin E compound) than any other vegetable species (Frega, Mozzon & Bocci 1998).
Three apocarotenoids were isolated from annato (B. orellana) and synthesized. They were: methyl (9Z)-8'-oxo-6, 8'diapocarten-6-oate (2), methyl Z)-10'-oxo-6, 10'diapocaroten-6-oate (4), and methyl (9Z)-14'-oxo-6,14'-diapocaroten-6-oate (Haberli & Pfander 1999).
Three minor cartenoids were isolated from the seed coat of B. orellana fruits by chromatographic methods and, for the first time, geranylgeraniol has been found esterified with a carotenoid carboxylic acid (Mercadante, Steck & Pfander 1999).


Pharmacology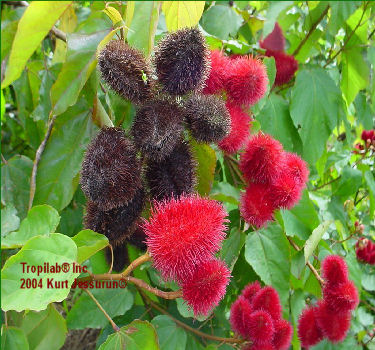 The antimicrobial activity and Minimal Inhibitory Concentration (MIC) of the extracts from Bixa orellana are adequate against the bacteria Staphylococcus aureus, Bacillus cereus, Escherichia coli and Candida albicans.
However, it is ineffective against Streptococcus beta hemolytic and Pseudomonas aeruginosa.and the medicinal use in infections associated with these two species is not recommended.
This shows that Bixa orellana can be a potential source of a new antimicrobial agent and can be used to manage infections of microbial origin.
Preliminary pharmacological studies were performed on the methanol extract of Bixa orellana L. (Bixaceae) leaves to investigate neuro-pharmacological, anticonvulsant, analgesic, anti-diarrhea activity and effect on gastrointestinal motility.
In the pentobarbitone-induced hypnosis test, the extract statistically reduced the time for the onset of sleep and increased the total sleeping time.
A statistically significant decrease in locomotor activity was observed at all doses.
Anti-diarrhea activity was supported by a statistically significant decrease in the total number of stools.
The extract was further evaluated in vitro for antioxidant and antibacterial activity; it revealed radical scavenging properties and antibacterial activity against selected causative agents of diarrhea and dysentery, including Shigella dysenteriae (bacteria that causes severe stomach aches).

Bixa orellana is used in the therapy of diabetes mellitus; it lowers blood glucose by stimulating peripheral utilization of glucose (use of glucose by the muscles).
Anatto appears to be one of the richest natural sources of delta-tocotrienol and contains as well gamma-tocotrienol (both are part of natural vitamin E).
Natural vitamin E has shown many cancer-fighting properties. Gamma-tocotrienol, a cofactor of natural vitamin E, may significantly decrease formation of prostate tumor. It may also inhibit growth in human breast cancer cells.

For more details on the phyto-chemistry and pharmacology of the Bixa plant: go to our "Bixa orellano" page.


Dosage

Tincture: 0.5 - 3 ml. daily.


Precautions

None.


Reference

Somatic embryogenesis from immature zygotic embryos of annotto (Bixa orellana L).
Paiva Neto, Vespasiano B., Botelho Marcel N., Agu
Issn: 1054-5476 Journal: In Vitro Cellular and Developmental Biology - Plant. - Vol. 39; no. 6; pp 629-634

Hypoglycaemic activity of Bixa orellana extract in the dog.
Russell KR, Omoruyi FO, Pascoe KO, Morrison EY.
Department of Basic Medical Sciences, Biochemistry Section, University of the West Indies, Mona, Kingston, Jamaica, West Indies


The above presentation is for informational and educational purposes only.
It is based on scientific studies (human, animal, or in vitro), clinical experience, or traditional usage.
For many of the conditions discussed, treatment with prescription or over - the - counter (OTC) medication is also available.
Consult your doctor, practitioner, and/or pharmacist for any health problem and before using dietary supplements or before making any changes in prescribed medications.