BOMBAX AQUATICUM - MALABAR CHESTNUT.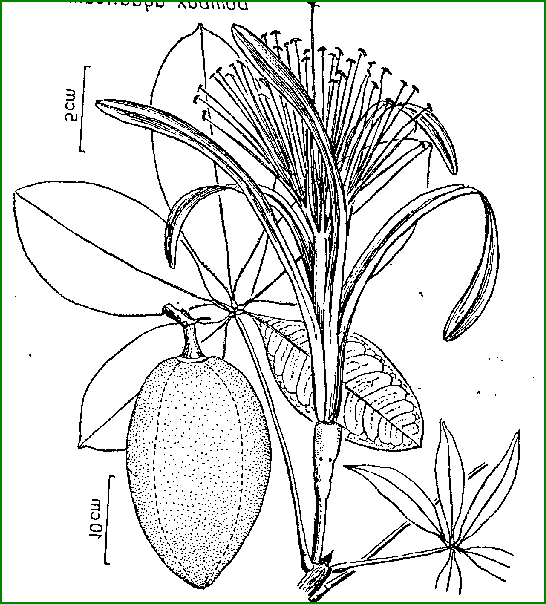 Synonym
Grandiflora pachira, carolinea princeps, aquatica pachira, nitida pachyra.
Common name
Castaño de Guayana, castanhola, chestnut of the maranhao, guiana chestnut, malabar chestnut, munguba, pareira de cuba, provision tree, saba nut.
Family
Bombacaceae (Bombax family).

Overview
Malabar chestnut is a tree from tropical America indigenous to Suriname, growing alongside rivers and creeks in standing water.
According to the above, this fruit is called in Suriname, water cacao.
Saba nut can grow up to 60 feet tall.
The leathery leaves are shiny and 8" long, the bark is greenish.
The young leaves and large white flowers, emerging from long buds, are sometimes used as a vegetable.
The, 6-12 inch long fruit is an ovoid woody pod which burst open upon ripeness; it has rounded seeds that closely resembles those of cacao.
These fatty seeds can be eaten raw or roasted; they have a peanut taste.
Other Bombax species are: Ceiba pentandra, Bombax flaviflorum and Durio zibethinus.

Hardiness
USDA zone 9 - 11.
Propagation
Seeds and cuttings.
Due to recalcitrant nature of the seeds, they have a short viable life, can not be dried well and can not withstand low temperatures.
Culture
Plant in partly flooded areas (alongside creeks, pools or rivers). Full sun / partial shade, has some tolerance for cold; can withstand temperatures as low as 28° F. for a short time.
However, protect from frost. It can be kept indoors as a container plant for its foliage.
Recalcitrant seeds are not refundable since they are prone to fungus and often difficult to germinate.