HEDYCHIUM CORONARIUM - BUTTERFLY LILY.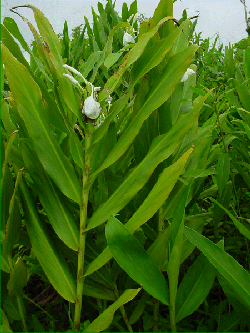 Common name
Butterfly lily, ginger lily, white ginger, garland flower, dolan champa, takhellei angouba, awapuhi.
Family
Zingiberaceae (Ginger family).

Overview
The butterfly, native to Southeast Asia, is a tropical perennial that grows up to 7 feet tall.
Its fragrant clusters of white - or pink flowers, resembling butterflies, grow atop the green stalks.
After some time, the flowers give way to seed pods full of bright red seeds.
The juice of the mature seeds is used as a hair and skin treatment by native Hawaiians.
The leaves are oblong and acuminate.
This plant tolerates an occasional freeze and frost will kill it to the ground but it will grow back if temperatures rise.

Hardiness
USDA zone 8 - 11.
Propagation
Rhizomes.
Culture
Full sun, half shade, rich sandy loam soil; needs moisture.
Plant in frost free areas.