CHRYSALIDOCARPUS LUTESCENS. - BUTTERFLY PALM.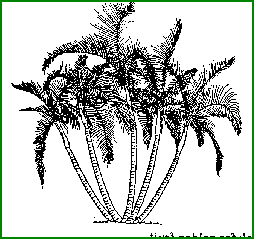 Common name
Butterfly palm, Cane palm, Madagascar palm, Golden feather palm, yellow palm, Bamboo palm, Areca palm.
Family
Arecaceae (Palmae).



Overview
Size: 30 feet (mature height)
Trunk: multiple, slim, ringed, bamboo - like stem branching just above ground level.
Origin: Madagascar, but grows now abundantly in Suriname
Leaf: yellow petiole if grown in the sun; otherwise green. The leaf is feather shaped.
Flower stalk: from below the crownshaft
Fruit: ¾ inch, oval.

Hardiness
USDA zone 9 B - 11.
Propagation
Seeds and clums.
Cultivation
Fresh seeds germinating quickly and easy
It is one of the most popular indoor palms, does not like cold, outdoors it should be planted near frostless locations.
Arecas are hardier than most foliage plants and tolerate short durations of 32° F, but some necrosis might occur.
They can tolerate relatively low light conditions.
Soil: fertile soil p.H: 6; water moderately.