CALLIANDRA SURINAMENSIS - SURINAME POWDER PUFF.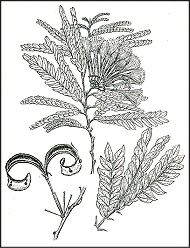 Common name
Pink powder puff, Officiers-kwast, Surinam powder puff, Surinamese stickpea. Family Mimosaceae (Leguminoceae).

Overview
Surinam Powder Puff is a very common, low branching shrub or small tree with multiple trunks. It is native to Suriname. It grows up to a height of 15 feet; has evergreen bipinnate, oblong leaves and axillary, compound, showy pink flowers, like a powder puff.
Surinam powder puff has dense foliage and is a fast grower; it flowers year around.
A flat pod, first green later brown, contains 5 - 6 seeds; it curls open to release the brown seeds.
This plant is cultivated for its ornamental purposes; it can also be used for bonsai.

Hardiness
USDA zone 9 - 11.
Propagation
Seeds and cuttings.
Culture
Full sun / light shade, rich well drained soil; acidic to slightly alkaline.
After establishment with the aid of water, only regular pruning is needed to keep the plant within bounds.
This is an excellent container plant for the cooler climates and for the warmer regions; a beautiful outdoors plant.