CEDRELA ODORATA L. - SPANISH CEDAR.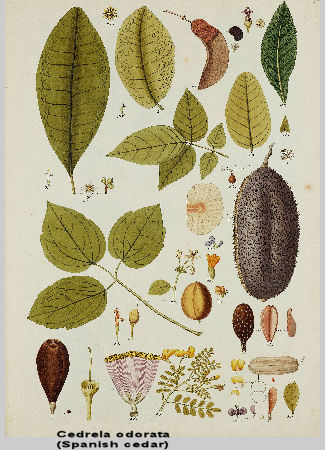 Synonym
Cedrela Mexicana, cedrela glaziovii.
Common name
Barbados cedar, cedre acajou, cédre des barbares, cedro colorado, cedro hembra, cedro real, cedro rosa, Mexican cedar, spaanse ceder, Spanish cedar, West Indian ceder, Westindische zeder.
Family
Meliaceae (Mahogany family).

Overview
Barbados cedar is a deciduous tropical tree 60 to 90' tall with a stout trunk more than 3½' in diameter.
It is clear of branches for two-third of the trunk.
The grayish bark is deeply grooved.
The wood of Spanish cedar has a strong aromatic odor.
It has leaves with 10 - 30 leaflets, each 2¾ - 5¼" long and 1 to 1" wide.
The Barbados cedar is monoecious, fruiting starts at 10 to 12 years.
It has a large inflorescence and bears small greenish-white flowers with glabrous filaments.
The fruit is a woody capsule, while the very small seeds are winged and spread when the ripen fruit splits open.

Spanish cedar is widely harvested for use as timber and has been appreciated since ancient times for its durability.
Visit also our exotic tropical hardwood page for cedar.
The aromatic wood is also used for cigar boxes.
It is resistant to insect attacks due to the presence of a volatile oil in the wood.
The West Indian cedar is not related to the cedars of the cooler zones.

Suriname's traditional medicine
The bark of Spanish cedar is used against malaria, fever and rheumatism.
Visit our TINCTURE page.

Hardiness
USDA zone 9B - 11.
Propagation
Seeds.
Culture
Full sun; well drained soil, rich and moist, tolerates some drought.