PINANGA CORONATA - CORONATA PALM.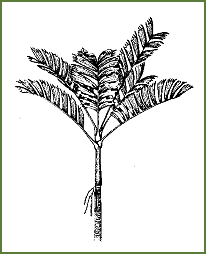 Common name
Coronata palm, ivory cane palm.
Family
Arecaceae (Palmae).

Overview
Size: up to 15 feet tall.
Trunk: multiple clustered, slim and green with rings and a crownshaft.
Origin: Indonesia, but growing also abundantly now in Suriname.
Leaf: feather-shaped; young plants may have mottled leaves.
Flower stalk: from below the lowest leaf.
Fruit: bright red, oval; turning black when ripe.
Seed: small pointed at the ends.

Hardiness
USDA zone 9 B - 11.
Propagation
Seeds.
Cultivation
Lightshade / shade.
Requires mainly tropical conditions, but it has some tolerance to cold.
It can witstand temperature down to 28° F. for a short time.
Shows great promise as an indoor plant.