Overview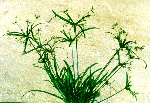 Cyperus, a common perennial weed with tubers, is mainly used for digestive disorders. It is an anti-emetic (suppresses vomiting); useful in reducing the symptoms of morning sickness during pregnancy because it gives the body a general feeling of warmth.
Cyperus is sometimes used as a sedative, generally in connection with suppressing nausea.
It is also used to relieve gas in the stomach and intestines. In Amazonia, the indigenous people use it to treat infection and in Africa it is used to treat epilepsy.
The properties of Cyperus (Purple nutsedge) are: analgesic, anthelmintic, antibacterial, antifungal, antispasmodic, astringent, carminative, emmenagogue, hypotensive, sedative and is used as a tonic. It is also used for the liver, menstrual disorders, menstrual pain, as a natural digestive stimulant and for memory. To treat diarrhea, gas and infertility. It can help with some kinds of cervical cancer. The calming effect of this plant helps relieve depression.

Phytochemicals

1,8-cineole, 4alpha,5alpha-oxidoeudesm-11-en-3-alpha-ol, Alkaloids, Alpha-cyperone, Alpha-rotunol, Beta-cyperone, Beta-pinene, Beta-rotunol, Beta-selinene, Calcium, Camphene, Copaene, Cyperene, Cyperenone, Cyperol, Cyperolone Cyperotundone D-copadiene, D-epoxyguaiene, D-fructose, D-glucose, Eo, Flavonoids, Gamma-cymene, Isocyperol, Isokobusone, Kobusone, Limonene, Linoleic-acid, Linolenic-acid, Magnesium, Manganese, Mustakone, Myristic-acid, Oleanolic-acid, Oleanolic-acid-3-o-neohesperidoside, Oleic-acid, P-cymol, Patchoulenone, Pectin, Polyphenols, Rotundene, Rotundenol, Rotundone, Selinatriene, Sitosterol, Stearic-acid, Sugeonol, Sugetriol

Pharmacology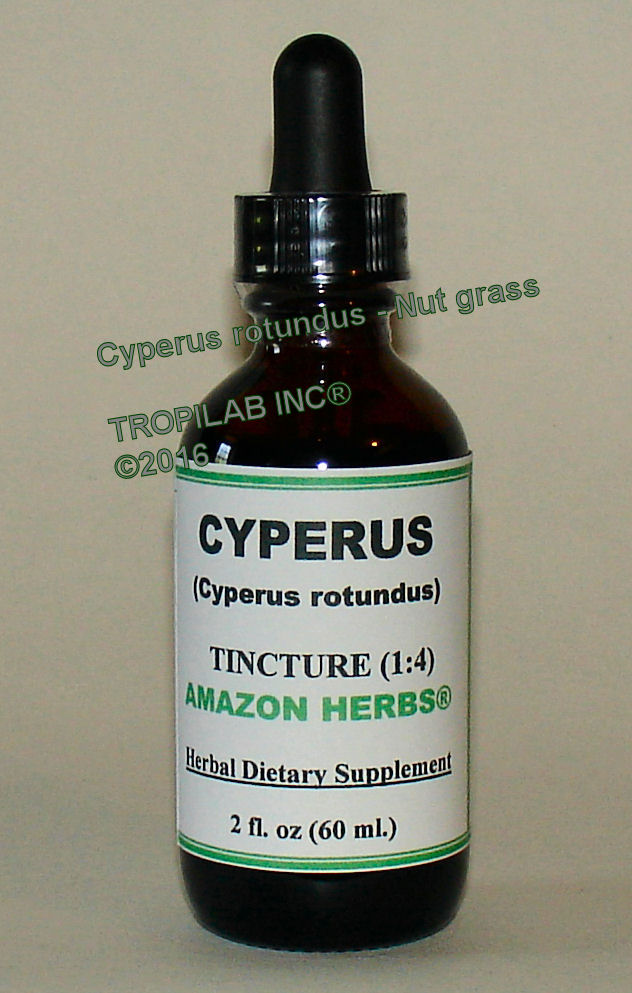 Anticariogenic properties of the extract of Cyperus rotundus, research suggests that Cyperus rotundus may inhibit cariogenic properties of Streptococcus mutans.
Further studies are necessary to clarify the active constituents responsible for such biomolecular activities.
A study was aimed to evaluate the wound healing activity of extract of tuber parts of Cyperus rotundus.

An alcoholic extract (herbal tincture) of tuber parts was examined for wound healing activity. The wound healing property appears to be due to the presence of its active principles, which accelerates the healing process and confers breaking strength to the healed wound. It is possible to conclude that the ointment of the extract of Cyperus has significant wound healing activity at all the doses tested. It is comparable to those of the standard drug Nitrofurazone ointment (0.2% w/w NFZ) in terms of wound contracting ability, wound closure time and tensile strength.
Nitrofurazone (Furacin) is used to treat burns that have become infected. It is also used to treat skin infections due to skin grafts. It works by killing bacteria or preventing their growth.

The crude extract of Cyperus rotundus was used for anti-inflammatory activity. The test exhibited a decrease in hind paw volume at the dose 300 and 500 mg/kg administered orally. Significant dose dependent effect was observed at higher dose but it was lesser than aspirin as standard drug on comparison. It was also observed that maximum anti-inflammatory effect started after 1 hour and then started to decrease after 4 hours of administration.

Muscle relaxation automatically decreased exploratory behavior by producing sedation. All hypotensives are sedative to some extent. C. rotundus is also a natural hypotensive drug. This drug showing slight effect on muscle relaxant activity as traction observed by control and C. rolundus extract treated mice showed no significant difference of traction time among control and Cyperus treated animals. The relaxing and sedative effect did not prolong the struggling time as compared to the control animal while antidepressant drug having capability to prolong the struggling time on the basis of present finding it may be suggested that Cyperus may act as relaxant, sedative and hypnotic but it may not be antidepressant; it is also correlated with other behavioral tests like exploration, cage crossing, open field etc. Cyperus rotundus is a tropical herbal medicine and in India is used traditionally for strengthening memory.

Dosage

Tincture: 2 - 3 ml daily (2 - 3 full pipettes)
Infusion (herbal tea): 1 - 2 cups daily

Reference

Inhibitory effects of methanol extract of Cyperus rotundus rhizomes on nitric oxide and superoxide productions by murine macrophage cell line, RAW 264.7 cells.
Seo WG, Pae HO, Oh GS, Chai KY, Kwon TO, Yun YG, Kim NY, Chung HT.
Department of Microbiology, Wonkwang University School of Medicine, Iksan, 570-749, Chonbuk, South Korea.

Wound healing activity of cyperus rotundus linn.
A Puratchikody¹, C Nithya Devi1¹, G Nagalakshmi²
¹ Department of Pharmacy, School of Engineering and Technology, Bharathidasan University, Tiruchirappalli-620 024, India
² Department of Pharmaceutical Chemistry, The Erode College of Pharmacy, Erode-638 112, India

Pharmacological studies on traditional medicine (Cyperus rotundus) used in Pakistan.
ASIF BIN REHMAN
Institute/University/Department Details; Department of Pharmacology/ University of Karachi Session, 2007 Subject Pharmacology.


The above presentation is for informational and educational purposes only.
It is based on scientific studies (human, animal, or in vitro), clinical experience, or traditional usage.
For many of the conditions discussed, treatment with prescribed (RX) or over - the - counter medication (OTC) is also available.
Consult your doctor, practitioner, and/or pharmacist for any health problem and before using dietary supplements or before making any changes in prescribed medications.