DILLENIA INDICA L. - ELEPHANT APPLE.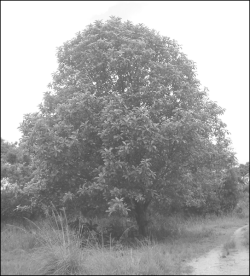 Synonym
Dillenia speciosa.

Common name
Chulta, hondapara tree, elephant apple.

Family
Dilleniaceae.(Dillenia family)

Overview
Originally from Indonesia, this evergreen tropical tree is also growing in Suriname, up to 60 feet tall.
Chulta is a spreading tree and has beautiful white fragrant flowers, toothed leaves and globose fruits with small brown seeds.
The greenish-yellow fruit, which has a thick protective covering, is edible; unripe fruits are cooked to make pickle and chutney.
The juicy pulp is aromatic but very acid.

Hardiness
USDA zone 9 B - 11.

Propagation
Seeds and cuttings.

Culture
Full sun / light shade, moist soil, pH 5.5 - 7.0.
Elephant apple tree can be used as an ornamental tree.
Protect from frost or plant in frost free areas.