HAMELIA PATENS - FIRE BUSH.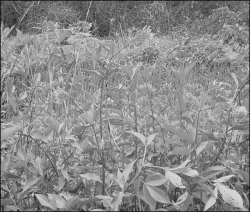 Synonym
Hamelia coccinea, hamelia erecta.
Common name
Bálsamo, pata de pájaro, hummingbird bush, fire bush, polly red head, Texas fire cracker, scarlet bush.
Family
Rubiaceae (Madder family).

Overview
Fire bush is a fast growing semi - woody evergreen perennial shrub with elliptic leaves; indigenous to Suriname.
Texas fire cracker is growing up to 12 feet tall.
The flowers attract butterflies and humming birds.
The fruits are berries and clustered. It's really a black berry with seeds.
Fire bush contains anti - bacterial, anti fungal and immunostimulant phytochemicals.

Suriname's Traditional Medicine
Insect bites, menstrual disorders, uterine - and ovarian afflictions.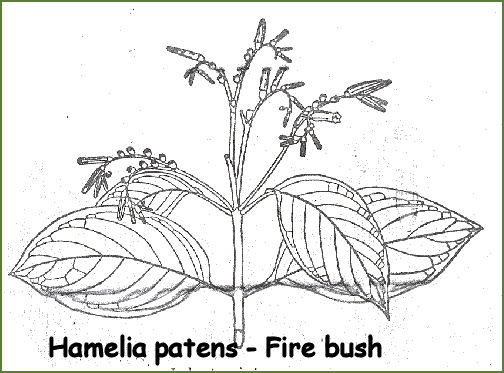 Hardiness
USDA zone 8 - 11.
Propagation
Seeds.
Culture
Full sun, shade, soil should be moist and well.
In the cooler zones 4 - 8, it can be grown as an annual.
Plant in frost free spots.
Makes excellent hedges; also used as a shrub in landscaping; may need some pruning.
It is a beautiful garden plant and looks good in every garden!