HELICONIA FLABELLATA - FLABELLATA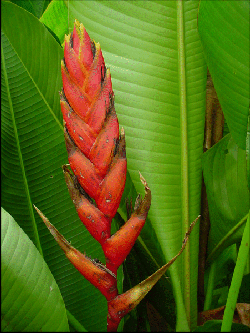 Common name
Flabellata, arrowhead.
Family
Heliconiaceae.

Overview
A hybrid growing up to 12' to 16' tall, that blooms October - May.
Bracts: 12 - 18 (red proximally and yellow distally)
Basal bract: green - to yellow distally
Rachis: maroon on basal bract.

Hardiness
USDA zone 9B - 11.
Propagation
Rhizomes.
Culture
Needs full sun to 30%; protect from low temperature; flowers after 12 months.
Can be kept indoors in a large container outdoors or in the green house.