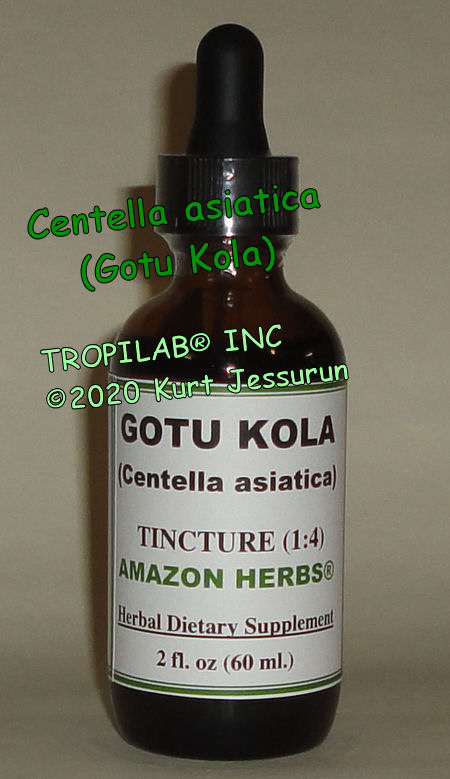 Overview

Centella asiatica (Indian pennywort) is used both culinary and medicinally in Ayurvedic medicine.
Originally from South-east Asia, it grows in swampy areas in the Guiana's.
It has cognitive enhancing properties and speeds up wound healing, against skin lesions.


Constituents

plant sterols, flavonoids, phytosterols. fatty acids (linoleic acids, linolnelic, oleic, palmitic and stearic acids), Pentacyclic triterpenoids (saponins), including asiaticoside, brahmoside, asiuyatic acid, and brahmic acid (madecassic acid); centellose, centelloside, madecassoside.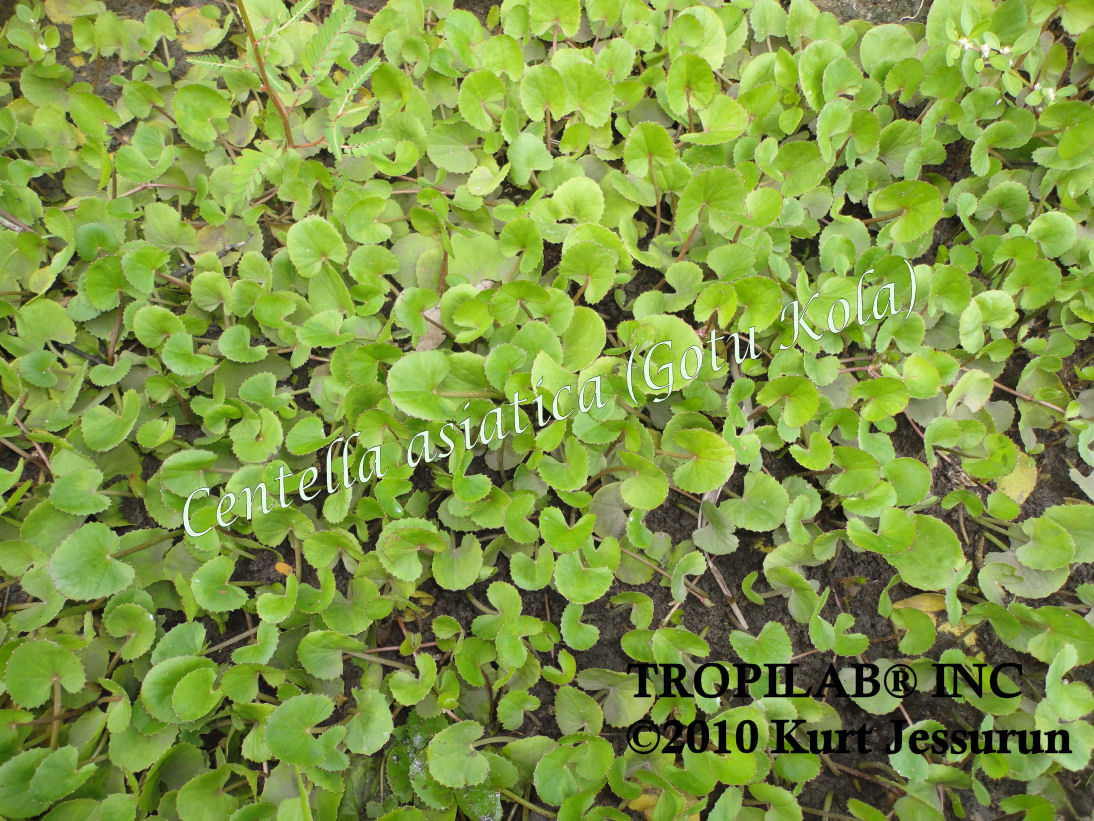 Pharmacology

Gotu kola extracts improve circulation. It helps with diabetic microangiopathy by improving the function of veins. This affects people with diabetes and involves having unusually small blood vessels in various areas of the body.
This may help reduce swelling and improve blood flow.
Air travelers who take gotu kola before flying may have less ankle and leg swelling than those who do not take it.

The plant has antinociceptive and antiinflammatory properties; it is also effective in inhibiting gastric ulcers.


Applications

Treatment of various skin conditions such as leprosy, lupus, varicose ulcers, eczema, psoriasis, diarrhea, amenorrhea, diseases of female genitourinary tract, strengthening weakened veins.


Dosage
Tincture: 1 - 3 ml daily.


Reference

Effect of abana on ventricular function in ischemic heart disease.
Jpn Heart J. Nov 1990:829-835
Antani JA, Antani NJ, Kulkarni RD.

Neuronutrient impact of Ayurvedic Rasayana therapy in brain aging.
Biogerontology. 2008 Dec;9(6):369-74
Narsimhamurthy K, Singh G, Singh RH.

Preparation and characterization of herbal creams for improvement of skin viscoelastic properties.
Int J Cosmet Sci. 2008 Jun;30(3):183-93.
Ahshawat MS, Saraf S, Saraf S..


The above presentation is for informational and educational purposes only.
It is based on scientific studies (human, animal, or in vitro), clinical experience, or traditional usage.
For many of the conditions discussed, treatment with prescribed (RX) or over - the - counter medication (OTC) is also available.
Consult your doctor, practitioner, and/or pharmacist for any health problem and before using dietary supplements or before making any changes in prescribed medications.