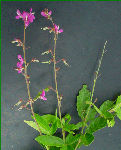 Overview

Strong back or Amor seco (Desmodium adscendens) is a very powerful natural antispasmodic and muscle relaxant recommended for (lower) back pain, uncomplicated by disk degeneration.
Back problems are among the most painful, disabling common condition one can suffer. They're also among the least likely conditions to respond favorably to standard medical treatment, including drugs and surgery, often leaving physician and patient feeling helpless.
Desmodium is also adequate against asthma and allergies.
It works better than OTC analgesics such as nonsteroidal anti-inflammatory drugs (NSAID's) and it is not associated with the common side effects that these drugs have.
It will also not raise blood pressure or pulse rate.


Constituents

Alkaloids, flavonoids (such as astragalin, cosmosin), soyasaponins (such as dehydrosoyasaponin), bioamine (tyramine).


Pharmacology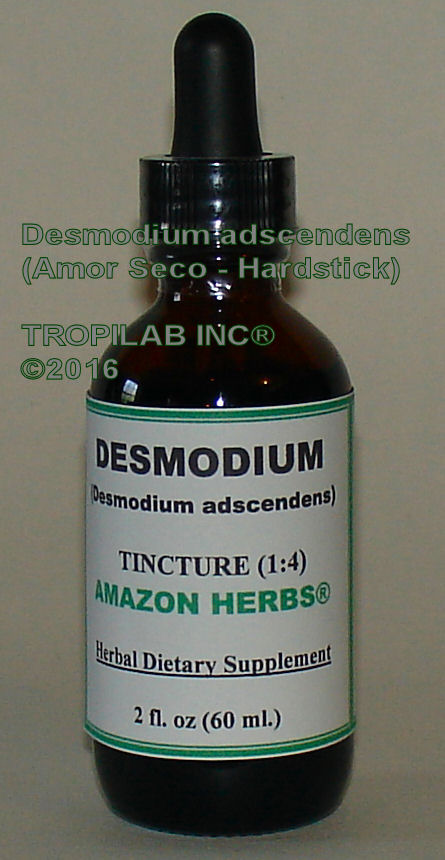 The triterpenoid glycosides and other phytochemicals such as beta-phenylethylamines and tetrahydroisoquinolines found in Amor seco are very potent potassium channel agonists.
They activate the calcium-dependent potassium ion channels; when potassium ions cross the cell membranes, the tone in the smooth muscles is maintained.
The phytochemicals in the plant have no effects on the central nervous system (CNS), so drowsiness or impaired judgment does not occur.
Desmodium reduces anaphylactic contractions, interfere with histamine-induced contractions, and reduce the amount of smooth muscle stimulating substances released from lung tissue of guinea pigs.

Desmodium tincture is very beneficial and succesful in low dosages; no side effects and toxicity are known. It is useful in all inflammatory conditions since it improves kidney and liver function.
In a new study, it was shown in very small quantities, to induce renal cell damage.

*Desmodium Adscendens is nontoxic (studies effected by The International Center of Toxicology, France)

Applications
Supports liver and lung function, reduces pain, blocks allergies, cleanses blood, reduces convulsions, blocks histamine, reduces inflammation, reduces spasms, dilates bronchial, relaxes muscles, detoxifier, increases urination, mildly laxative and against nervousness.

Dosage

Tincture: 3 - 6 ml. daily (3 - 6 full dropper) for all applications.
Infusion (herbal tea): 1 - 3 cups daily (1 tea spoon/cup).

Lung function

Allergies, upper respiratory infections, asthma, bronchial spasms.
Clearing of the sinuses, congested nasal passages and helps to stop a stubborn cough after the flu.
The relaxation effect on the bronchioles is succesful and fast.

Muscle & tendon function

Back muscle spasms, torn muscles/tendons, herniated discs, surgery pain relief.

Dosage

1 - 2 cups / daily (1 teaspoon / 1 cup).

Liver function

Hepatitis (viral toxic), minor hepatic dysfunctions, hepatic lesions from alcoholism and from chemotherapy.
In severe hepatic conditions, Amor Seco helps to halt cirrhosis and normalize trans - aminases.
Further it restores appetite and recovers from fatigue.

Reduction of nausea.

Take on an empty stomach.
Evaluate after this and if beneficial, use for an additional month (10 - 15 days per month).
Discontinue if condition does not improve.

**In case of intolerance (diarrhea and nausea), reduce the dosage.


Reference

J Ethnopharmacol. 1984 Aug;11(3):283-92.
Effects of the extracts of Desmodium adscendens on anaphylaxis.
Addy ME, Awumey EM.
Braz J Biol. 2002 May;62(2):223-30. Epub 2002 Aug 26.
Effect of butanolic fraction of Desmodium adscendens on the anococcygeus of the rat.
Barreto GS.
Department of Basic Health Sciences, Universidade Federal de Mato Grosso, Av. Fernando Correa Costa, s/n, CEP 78060-900, Coxipo, Cuiaba, MT, Brazil. genesson@cpd.ufmt.br

Barreto, G. S. "Effect of butanolic fraction of Desmodium adscendens on the anococcygeus of the rat." Braz. J. Biol. 2002; 62(2): 223–30.
Addy, M. E., et al. "Dose-response effects of Desmodium adscendens aqueous extract on histamine response, content and anaphylactic reactions in the guinea pig." J. Ethnopharmacol. 1996; 18(1): 13–20.
Addy, M. E., et al. "An extract of Desmodium adscendens activates cyclooxygenase and increases prostaglandin synthesis by ram seminal vesicle microsomes." Phytother. Res. 1995; 9(4): 287–93.
McManus, O. B., et al. "An activator of calcium-dependent potassium channels isolated from a medicinal herb." Biochemistry 1993; 32(24): 6128–33.
Addy, M. E., et al. "Some secondary plant metabolites in Desmodium adscendens and their effects on arachidonic acid metabolism." Prostaglandins Leukotrienes Essent. Fatty Acids 1992; 47(1): 85–91.


The above presentation is for informational and educational purposes only.
It is based on scientific studies (human, animal, or in vitro), clinical experience, or traditional usage.
For many of the conditions discussed, treatment with prescribed (RX) or over - the - counter (OTC) medication is also available.
Consult your doctor, practitioner, and/or pharmacist for any health problem and before using dietary supplements or before making any changes in prescribed medications.