BACTRIS MAJOR - KAWMAKA.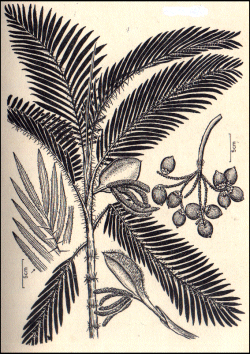 Common name
Kawmaka, prickly palm, lata palm, cubaro.
Family
Arecaceae (Palmae).

Overview
This small clustering palm is indigenous to Suriname, growing up to no more than 15 feet.
Bactris major has a spiny trunk; in time it becomes smooth with white rings.
The fruit is avoid, about 2 inch long, purple-black when ripe.
The Amerindians make an alcoholic drink from the fruit.

Hardiness
USDA zone 9B - 11.
Propagation
Seeds.
Culture
Partial shade, sandy loam soil, needs high humidity.
Plant in frost free locations.