XANTHOSOMA ATROVIRENS - KIMPOL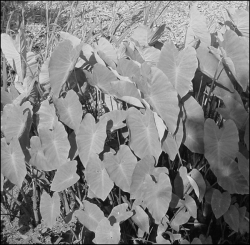 Common name
Kimpol, mickey mouse taro, mouse cup, pocket plant, yautia amarilla, spoonflower.
Family
Araceae (Arum family).

Overview
The leaves of kimpol are blueish-green, the leaf tip is shaped like a small funnel.
All parts, including the roots, are edible.

Hardiness
USDA zone 8 - 11.
Propagation
Rhizome.
Culture
Full sun / partial shade; rich, well drained soil.
Can be grown as a container plant; keep in frost free spots.