OENOCARPUS BACABA - TURU PALM.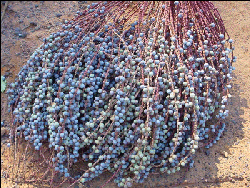 Common name
Kumbu, koemboe, turu palm, bacaba, lu, comou.
Family
Arecaceae (Palmae).

Overview
Turu is a thin palm, indigenous to the Amazon rainforest, with a stem 8 - 12 inches in diameter and growing up to 50' tall.
It has globose fruits, dark red to purple.
The fruit is made into a drink, after cooking and removing of the skin, the fruit also yield an moisturizing and emollient oil.

Hardiness
USDA zone 9B - 11.
Propagation
Seeds.
Culture
Full sun / partial shade and sandy soils, dry soil but water well.
Plant in frost free areas!
Can also be used as an indoor plant.