Overview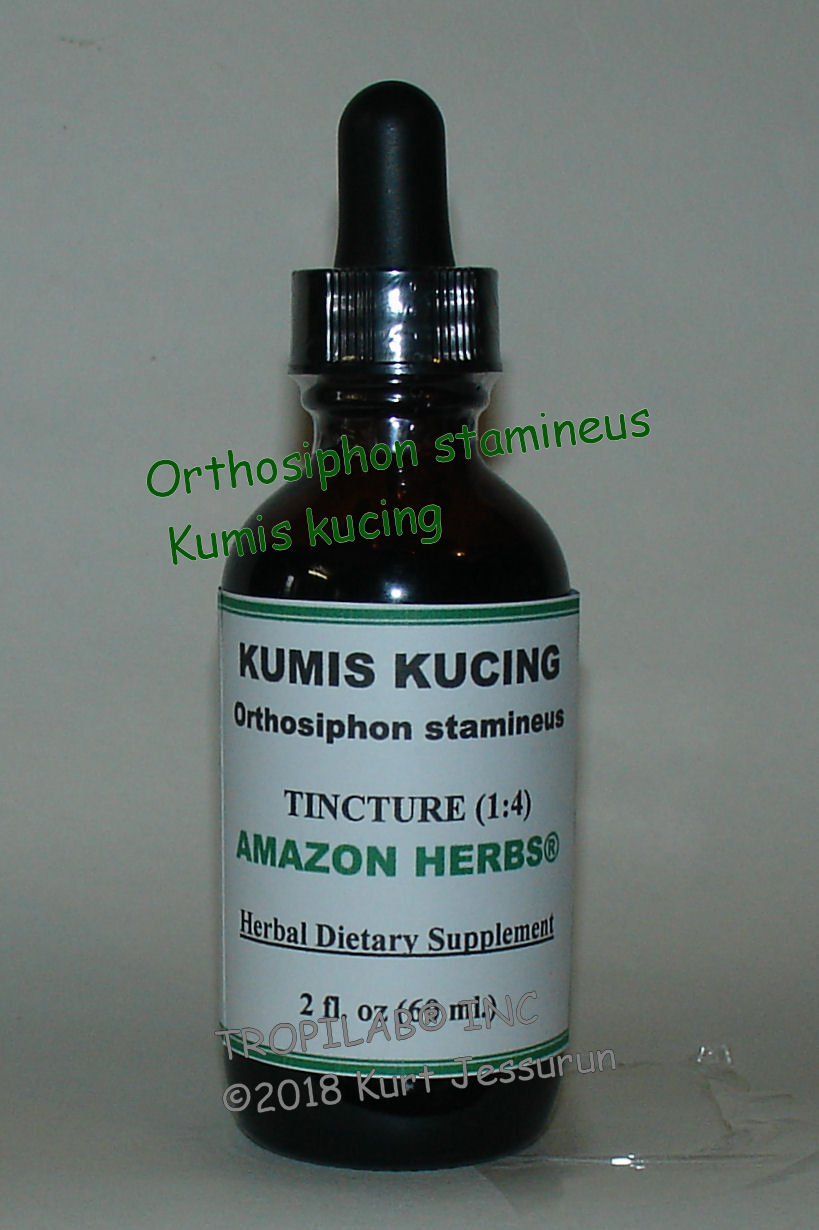 This tropical plant, also known as Misai kucing, Java tea and Catís whiskers, is an important plant in Traditional Folk Medicine and has many applications.
Original from Indonesia, Thailand and Malaysia; Kumis kucing has antioxidant, antitumor, diuretic, nephroprotective, antidiabetic, antihypertensive, anti-inflammation, antimicrobial, antiobesity and hepatoprotective activity.
The extract has selective cytotoxicity against prostate cells.
The diuretic effect is very strong; stronger than most other natural diuretics.


Phytochemicals

Beta-caryophyllene, alpha-humulene, caryophylene epoxide, eupatorin, sinensetin, scutellarine tetramethyl ethers, salvigenin, 7,3',4'-tri-O-methylluteolin, 5-hydroxy-6, 7',3',4'-tetramethoxyflavone, ladanein, 6-hydroxy-5, 7',4'-trimethoxyflavone, 2,3-dicoffeoyltartrate, rosmaric acid, 2-caffeoyltartrate, terpenoids, diterpene ester, orthosiphole A to E (diterpene dibenzoyl diacetyl ester of primarane type), neoorthosiphol A and B, orthosiphole F to J, staminol A and B, norstaminol A, orthochromene A (benzochromene), aglycone hederagenin (Triterpene saponins), alpha-carotene, beta-carotene, crptoxanthin, beta-zeacarotene, neo-beta-carotene, alpha-carotene oxide, vomifoliol, aurantiamide acetate, oleanolic acid, ursolic acid, betulinic acid and beta-sito sterol.


Pharmacology


There is promise for this herb as a natural fat burner since the 70% ethanolic extract has been noted to stimulate leptin (hormone) production in fat cells and increase in leptin has been noted in serum following oral ingestion of the leaf extract.

Recently, the potent antiangiogenic activity of O. stamineus and its prevention activity against human breast tumors were reported.
O. stamineus also suppressed vascularization (abnormal formation of blood vessels) and inhibited growth of implanted human colon tumors. The high amount of rosmarinic acid and flavonoids in the ethanolic extract plays a major role in these activities.


Properties & Applications

Kumis kucing works especially against kidney (renal) disorders.
Inflammation of the urethra, bladder, reduced urine secretion, stones in the urinary tract and renal calculus. Cleans the kidneys, urinary tract and bladder; flushes out kidney stones.
Treats kidney disorders, Urinary Tract Infections (UTIís); high blood pressure, circulation and diabetes. Traditionally used to treat gout, arthritis, and inflammatory related conditions.
Beneficial for prevention and management of rheumatoid arthritis and other chronic inflammatory disorders.


Dosage

Tincture: 1 - 3 ml daily (1 - 3 full droppers).
Infusion (herbal tea): 1 - 2 cups daily.


Reference

Antihypertensive substance in the leaves of kumis kucing (Orthosiphon aristatus) in Java Island.
Ohashi K, Bohgaki T, Shibuya H.


Catís whiskers (Orthosiphon stamineus) tea modulates arthritis pathogenesis via the angiogenesis and inflammatory cascade.
Yasser M. Tabana, Fouad Saleih R. Al-Suede, Mohamed B. Khadeer Ahamed et al.


From ethnopharmacology to clinical study of orthosiphon stamineus benth.
I Ketut Adnyana, Finna Setiawan, Muhamad Insanu.
School Of Pharmacy, Institute Technology Bandung, Jalan Ganesa 10, Bandung 40132, Indonesia.




The above presentation is for informational and educational purposes only.
It is based on scientific studies (human, animal, or in vitro), clinical experience, or traditional usage.
For many of the conditions discussed, treatment with prescribed (RX) or over - the - counter medication (OTC) is also available.
Consult your doctor, practitioner, and/or pharmacist for any health problem and before using dietary supplements or before making any changes in prescribed medications.



For the right freight rate, please visit our Webstore page!