LICUALA GRANDIS - RUFFLED FAN PALM.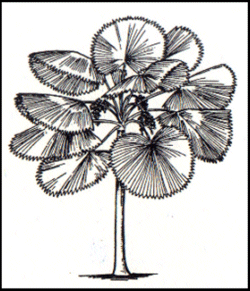 Common name
Ruffled fan palm, vanuata fan palm, palas payung, ruffled lantan palm.
Family
Aracaceae (Palmae).

Overview
Size: to 10 ft.
Trunk: slim, only a few (4-5") inches in diameter.
Origin: Australia, but grows now also in Suriname.
Leaf: circular, undivided and regularly pleated leaf; about 22 inch or more in diameter with a notched edge.
Flower: stalk from among the leaves.
Fruit: bright red when ripe; like a marble.
Seeds: small and round.

Hardiness
USDA zone 9 - 11.
Propagation
Seeds.
Cultivation
Can be grown indoors in containers.
Needs lots of water; high humidity, light shade. Does well in sandy loam soil or in lime stone. Can withstand minimum temperatures to 29° F.
However, grow in a protected area. Do not expose to heavy winds since it is a understory rainforest palm.