LICUALA SPINOSA - GOOD LUCK PALM.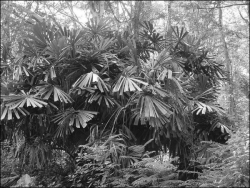 Common name
Mangrove fan palm, good luck palm, spiny licuala.
Family
Aracaceae (Palmae).

Overview
Size: a wide spread fan palm, grows up to more than 15 feet in height.
Trunk: multiple clumps, slim clustering ending as a dense bush.
Origin: Indonesia but now also growing in Suriname.
Leaf: circular shaped, with squared-off ends.
Flower stalk: from among the leaf bases.
Fruit: bright red, the size of a marble (about 0,5 inch in diameter).
Seed: small and round.

Hardiness
USDA zone 9 - 11.
Propagation
Seeds and clumps.
Cultivation
Ffull sun / light shade. Needs high humidity.
Very successful for indoor use, since it is also a slow grower.
Plant in a large container or in the glasshouse.
Can withstand several degrees of frost (28° F).
Needs lots of water and has low salt tolerance, likes poorly drained areas.