Overview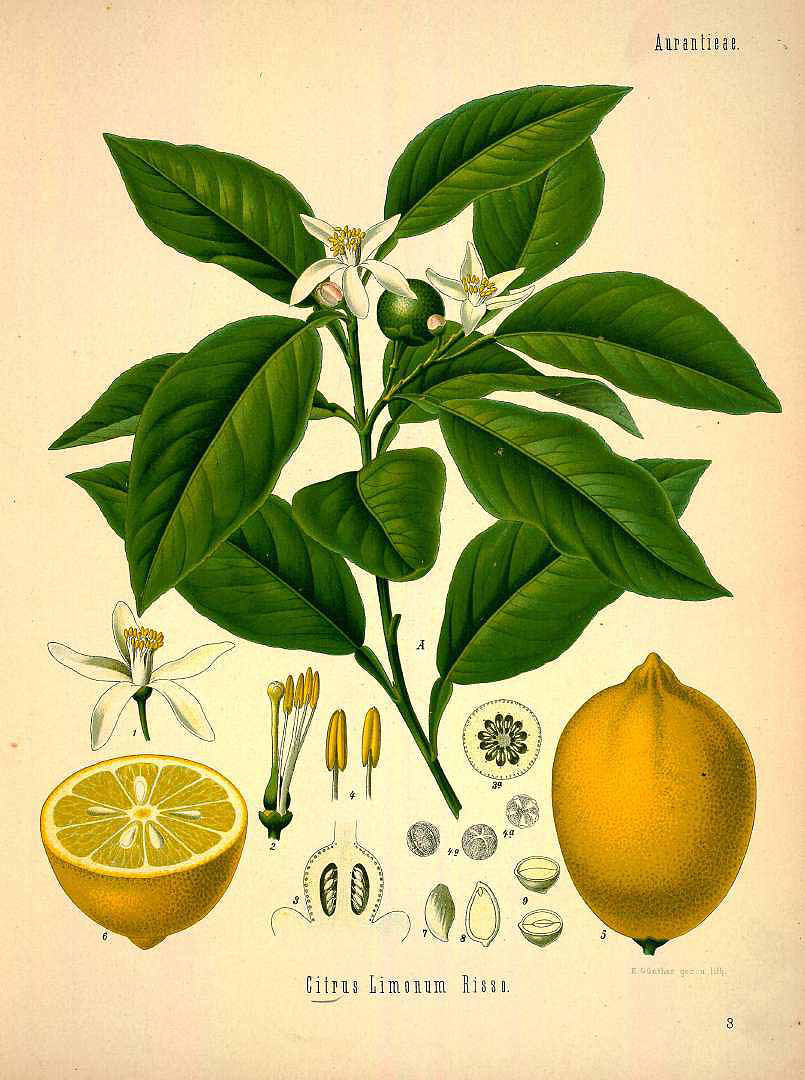 Citrus oils are obtained from various Citrus species found within the family of Rutaceae. Citrus oils are located in glands within the peel and the cuticles of the fruits.
Some oils are also found within the leaves and flower parts. Peel and cuticle oils are removed mechanically by cold pressing.
The peel has many health benefits; it successfully decreases the cholesterol level, natural vitamin C helps in keeping the blood vessels healthy and boosts metabolism.
Key lime juice (Citrus aurantifolia) is an effective antidote for the painful oral irritation and inflammation that result from biting into aroids (Dieffenbachia, Xanthosoma and Philodendron species).
Lime juice can also been applied to relieve the effects of stinging corals.
The juice is used in diaphoretic (inducing perspiration) and diuretic (promotes production of urine) draughts.
It is recommended in acute rheumatism and sometimes given to counteract narcotic poisons, especially opium.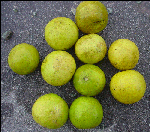 Constituents

Monoterpenes 35%: Alpha- and beta-pinene, limonene, Alcohols 40%: Linalol, alpha-terpineol, geraniol, nerol, Esters: Linalyl acetate, neryl acetate, geranyl acetate, Sesquiterpene alcohols: Trans-nerolidol, farnesols, Aldehydes, Ketones: Jasmine.


Pharmacology

According to the U.S. Food and Drug Administration (FDA), lime has Generally Recognized As Safe (GRAS) status for use in food in the United States when it is taken by mouth in amounts commonly found in foods.
Limes are high in vitamin C, calcium, iron, copper and dietary fiber, making it one of the healthiest fruits.
The antiseptic, antimicrobial, and mucus-dissolving properties of lime juice make it helpful for relieving cold and flu symptoms.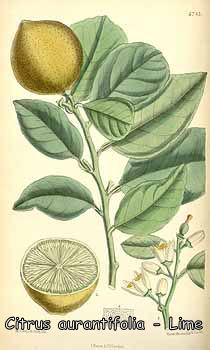 The essential oil of Citrus aurantifolia (limes) was studied for its potential spasmolytic effects in relation to its chemical composition. The antispasmodic activity (relieves spasm of smooth muscle) was evaluated on isolated rabbit jejunum, aorta and uterus. The results indicated that the essential oil of C. aurantifolia possesses important spasmolytic properties, which are likely to be due to its major constituents, limonene (58.4%), beta-pinene (15.4%), gamma-terpinene (8.5%), and citral (4.4%).

Limes contain flavonoids called flavonol glycosides and limonoids. These have been included in cancer research due to their ability to stop mitosis (cell division) in specific types of cancer.


Applications

The lime oil from the peel supports the immune system, easing infection in the respiratory tract and relieving pain in muscles and joints. It is also helpful in banishing the feeling of apathy, anxiety and depression.
Natural appetite stimulant, colds, congesting, cough, sore throat, digestive stimulant, astringent (skin), varicose veins and insect bites, are all well treated by the lime peel.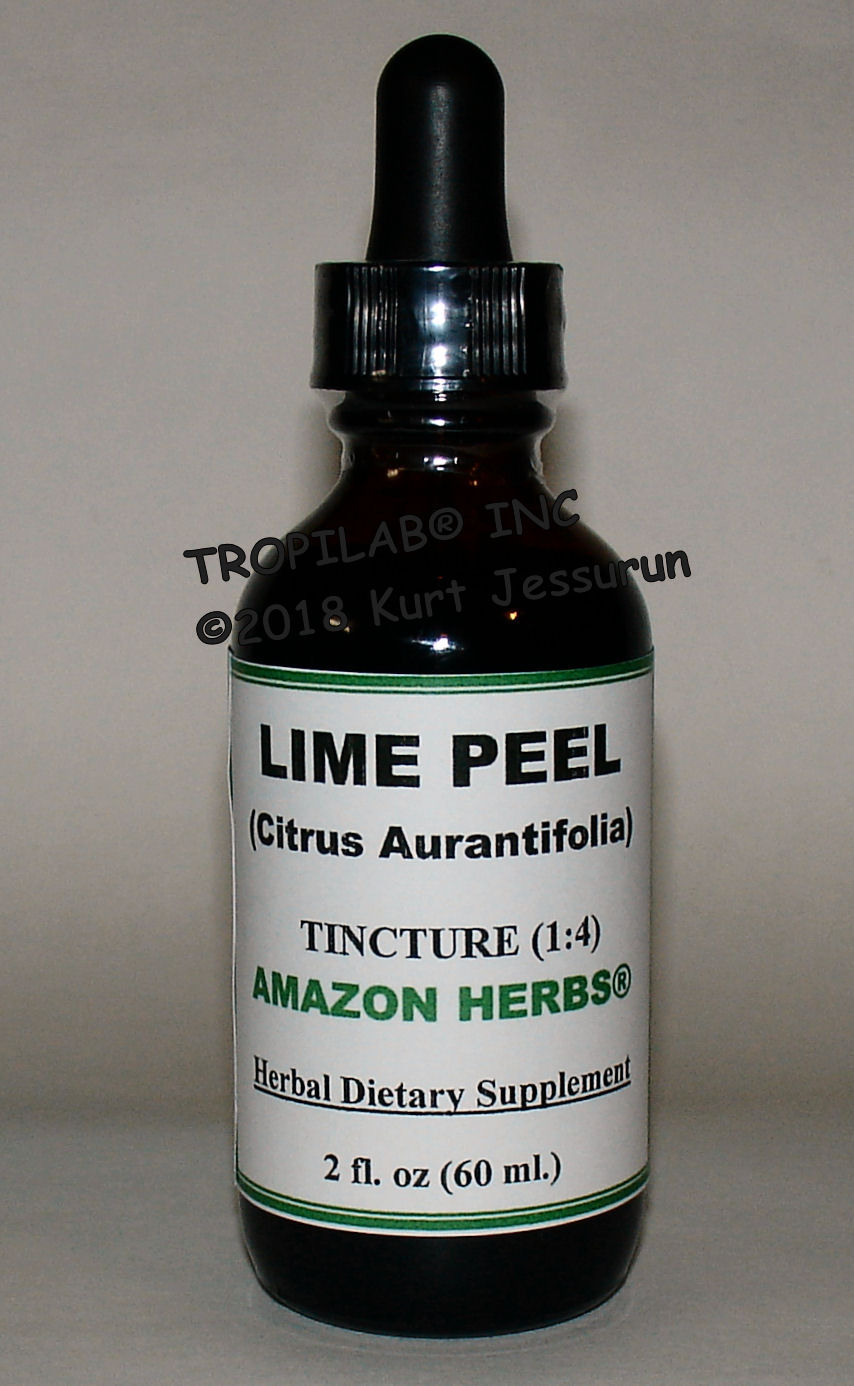 Dosage

Tincture: 1- 5 ml depending on the application and/or use.


Reference
Ohloff, Günther: SCENT AND FRAGRANCES: Springer-Verlag. 1990.
Guenther: THE ESSENTIAL OILS, volume III, Citrus oils: Krieger. 1949.
Rose, Jeanne: 375 ESSENTIAL OILS AND HYDROSOLS; Frog, Ltd. 1999.
Williams, David G.: THE CHEMISTRY OF ESSENTIAL OILS: Micelle Press. 1996


The above presentation is for informational and educational purposes only.
It is based on scientific studies (human, animal, or in vitro), clinical experience, or traditional usage.
For many of the conditions discussed, treatment with prescribed (RX) or over - the - counter medication (OTC) is also available.
Consult your doctor, practitioner, and/or pharmacist for any health problem and before using dietary supplements or before making any changes in prescribed medications.