Overview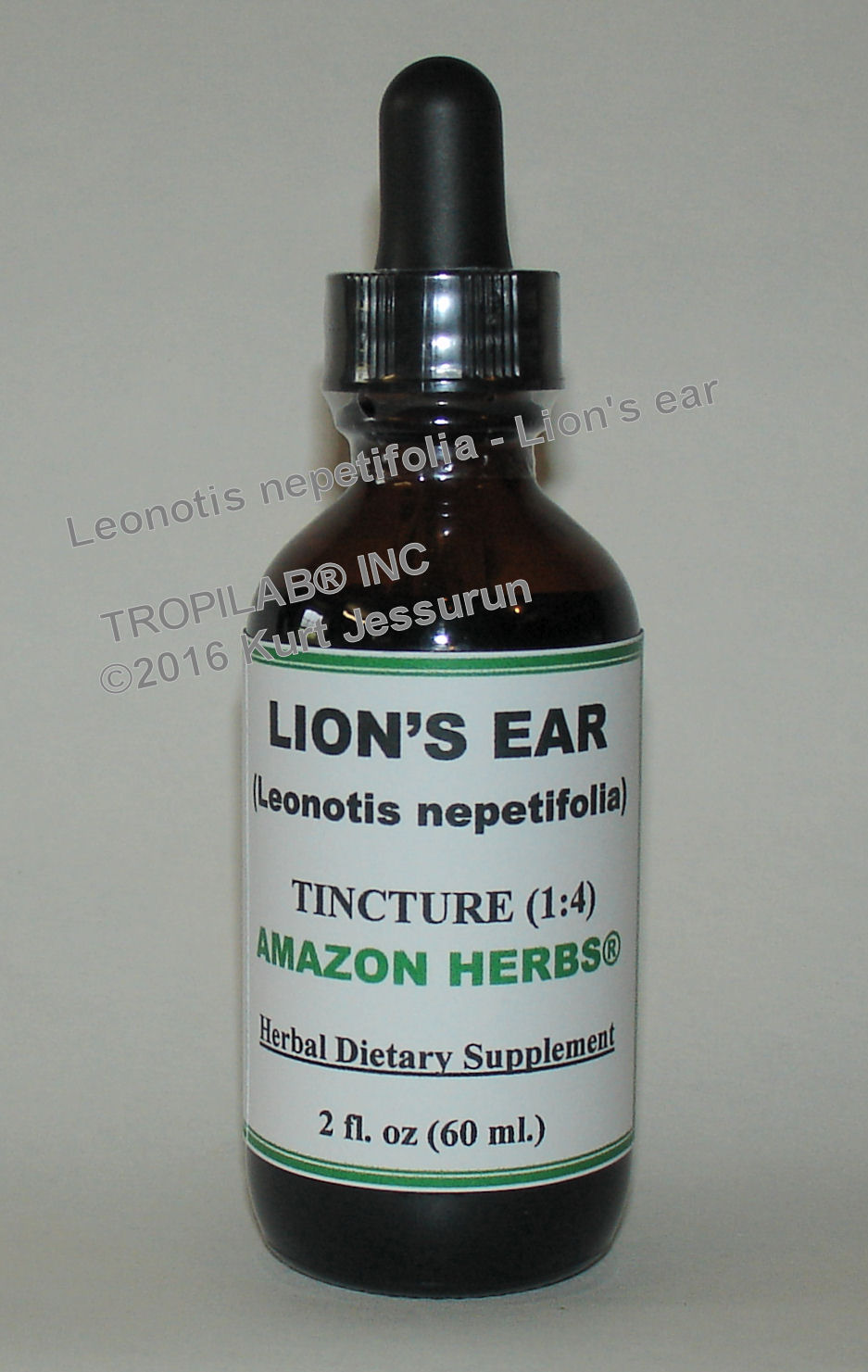 Lionís ear also called Klip Dagga is an erect tropical annual, growing up to 8 feet (2.4 m) tall; originally from Africa but growing also abundantly in Suriname.
It is closely related to Wild Dagga (Leonotus leonurus).
The dried foliage (herb) of these have entheogenic or psychoactive properties.
It is sometimes used as a legal substitute for marijuana (ganja, cannabis, hemp).
However, it does not mimic the effects of any illegal drug. The herb is mildly narcotic- and has many medicinal properties.
Smoking this dried herb gives a euphoric-like effect and exuberance due to one of the active components, the mildly psychoactive alkaloid leonurine (4-guanidino-n-butyl syringate) and other diterpenes (leosibiricine, leosiberine, isoleosiberine).
The flowers are the most potent part and can also be used as a calming herbal tea.
The herb and tincture do not contain any controlled substances.



Constituents

Alkaloids (including leonurine and stachydrene), iridoid glycoside (leonuride), iridoid glycosides (including leonurin and leonuridine), diterpenoids (including leocardin), flavonoids (including rutin, quercetin, hyperoside and apigenin), volatile oil, tannins, vitamin A.
Lionís ear contains, amongst many constituents, labdanic acid, the diterpene methoxynepetaefolin, the terpenic alcohols nepetaefolinol and leonotinine and a coumarin, (4,6,7-trimethoxy -5-methylchromen -2-one).


Pharmacology

The different alkaloids, flavonoids, diterpenoids, polyphenolics, iridoid glycosides and other constituents of Leonotis may be involved in the observed antinociceptive, anti-inflammatory, and antidiabetic effects of the plant's extract. However, the results suggest that the aqueous leaf extract possesses antinociceptive, anti-inflammatory, and hypoglycemic properties, and thus lend pharmacological credence to the suggested folkloric uses of this herb in the management and/or control of painful, arthritic, and other inflammatory conditions, as well as for type-2 diabetes mellitus.
It is also anti-asthmatic and has anti-diarrhea properties.

Another application is as an adjuvant in treatment of an overactive thyroid gland.
In Trinidad's traditional medicine, an infusion is used against fever, coughs, womb prolapsed and malaria.
The group of plants, called Leonotis, are also called Motherworth; they posses some similar properties.
Leonotis nepetifolia and leonurus are excellent heart tonics, they are able to calm palpitations, tachycardia (faster than normal heart rate at rest) and irregular heartbeats.
They are used for heart conditions associated with anxiety and tension.

These plants have effect on the uterus; depending on the dose they stimulate- or suppress the menstruation.


Dosage

Tincture: 1 - 3 ml daily (1 - 3 fuller droppers daily)
Infusion (herbal tea): 1 Ė 2 cups daily.


Reference

Bienvenu E, Amabeoku GJ, Eagles PK, Scott G, Springfield EP.
Department of Pharmacology, School of Pharmacy, University of the Western Cape, Bellville, South Africa.

Antinociceptive, anti-inflammatory and antidiabetic effects of Leonotis leonurus (L.) R. BR. (Lamiaceae) leaf aqueous extract in mice and rats.
Ojewole JA.
Departmenet of Pharmacology, Faculty of Health Sciences, University of KwaZulu-Natal, Durban, South Africa. Ojewolej@ukzn.ac.za


The above presentation is for informational and educational purposes only.
It is based on scientific studies (human, animal, or in vitro), clinical experience, or traditional usage.
For many of the conditions discussed, treatment with prescribed (RX) or over - the - counter (OTC) medication is also available.
Consult your doctor, practitioner, and/or pharmacist for any health problem and before using dietary supplements or before making any changes in prescribed medications.



For the right freight rate, please visit our Webstore page!